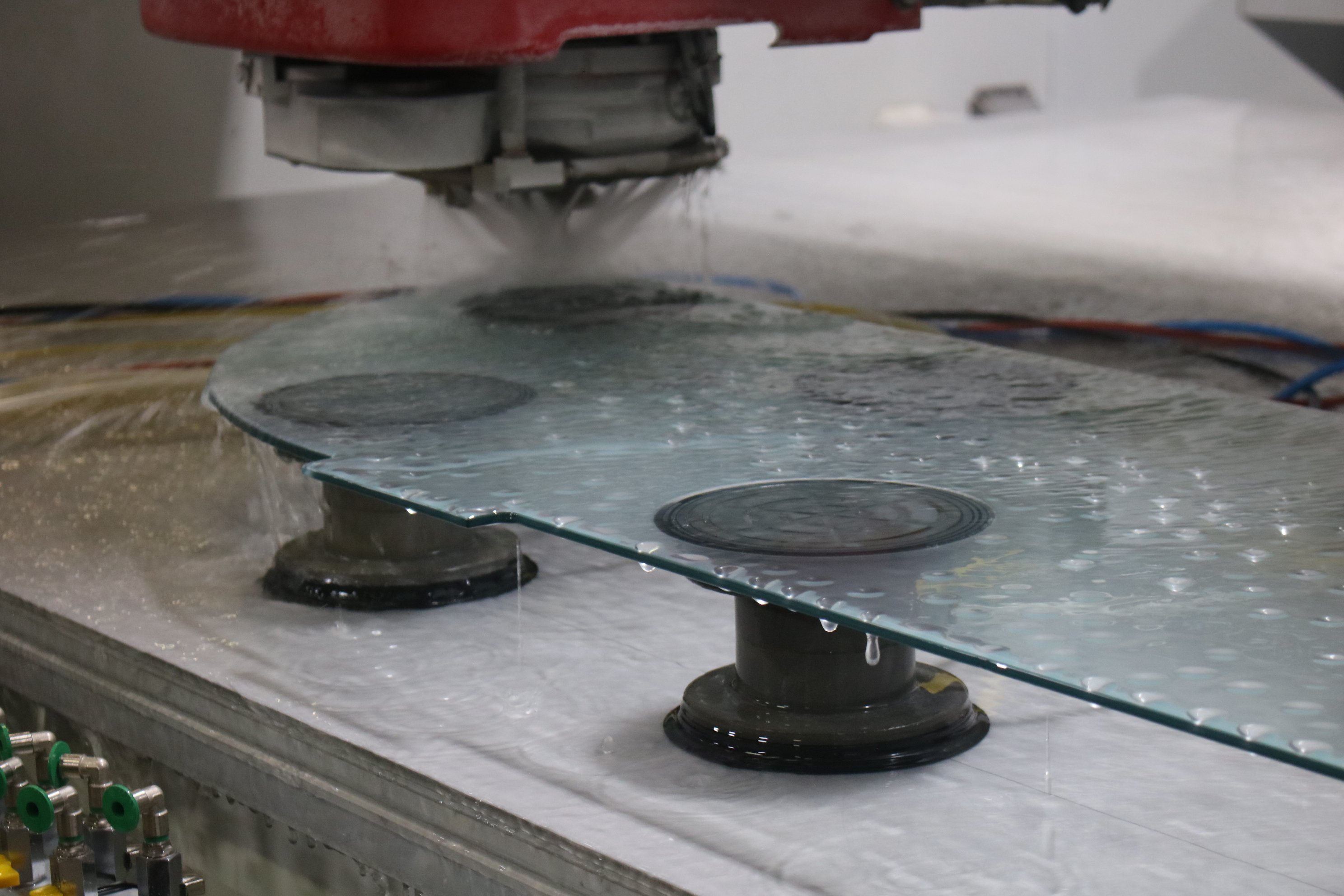 Let's say you're working on a new office building. Your client wants to take advantage of as much natural light as possible but doesn't want an entirely open-floor concept. You float the idea of glass walls and doors, and your client loves it.
Or maybe you have a retail client who wants to completely replace their storefront and doors with glass.
Or a homeowner who wants a custom glass shower installed.
No matter the scenario, you're going to need custom glass fabrication services.
Here we'll cover the basics of glass fabrication and how to find a vendor offering services that will make you (and your clients!) happy.
What Is Glass Fabrication?
Glass fabrication is a broad term. It entails all of the processes for treating and working raw glass panes into a final product. It includes:
Cutting
Shaping
Grinding
Drilling
Polishing
Tempering
Laminating
Finishing
Edging
Precision and quality are extremely important in these processes. Fabricators often rely on computer numerical control (CNC) machines that allow them to customize glass according to the exact specifications you request.
Glass vendors' equipment and skills are often sought out to create:
A Closer Look: Types of Glass Fabrication
Using state-of-the-art machinery, glass vendors fabricate your pieces to meet exacting standards and requirements. Typical glass fabrication services include:
Custom-Cut Sizes, Holes, & Cutouts
Commercial glass fabricators have special tools and equipment to accurately cut glass panes to custom sizes. They can also cut holes and cutouts for hardware (for glass railings or showers, for instance) or pass-thru (in reception windows, etc.).
However, not every commercial glass manufacturer has the same equipment. They may have limitations on the size of pieces they can fabricate. For instance, they may not be able to fabricate a wall-to-wall commercial mirror as a single unit.
Custom glass-cutting services can be used for bulk orders as well as one-off orders with intricate specifications.
Note: There are limits with the cutout-to-glass pane size proportions – the larger the cutout, the more risk there is for breakage.
Shaped Glass
Thanks to state-of-the-art CNC and waterjet machinery, glass can be fabricated into almost any shape, including those with highly detailed designs.
Custom glass designs can come in a variety of forms. General shapes include:
Squares

Rectangles

Triangles

Trapezoids

Parallelograms

Arches

Irregular gables

Quarter pie

Rectangles with radius corners

Half-circles
A number of other, specialty custom shapes are also available, such as:
French Provincial
Trefoil
Gothic arches
& any other shape imaginable
Keep in mind, non-traditional shapes can pose a problem for some commercial glass manufacturers. It's important to discuss glass shaping at the beginning of your project to understand a glass manufacturer's capabilities.
See our custom shaping abilities:
Tempering
Glass tempering – heating a pane using an oven and then cooling it under high pressure – strengthens glass by up to 5x.
Tempered glass is much more resistant to impact. Considered a safety glass, it breaks into small, pebble-like pieces instead of sharp, dangerous shards. While these pebbles can still cause injury, they limit the risk of deep lacerations that broken annealed glass poses.
Due to its durability and unique breaking pattern, tempered glass is a preferred material for interior applications.
Note: All other fabrication methods must be done before tempering a piece. Pieces can't be further shaped or cut after tempering.
Edgework
Custom edgework as a fabrication service adds a level of sophistication and visual interest to a glass piece. Edgework can also help finished pieces meet safety, performance, and cleanliness needs.
Edge types include:
Mitred edge
Flat edge
Pencil edge
Bullnose edge
Ogee edge
Waterfall


Note: The thickness of your glass impacts the style of edgework you can use. Ask your manufacturer about limitations.
See what glass edge types are available:
V-Grooving
V-grooving glass is a method of adding a design to the surface of a piece.
Like routing a piece of wood, v-grooving cuts v-shaped lines into the surface of a glass plane to create detailed patterns.
In v-groove pieces, the indentations create a unique effect when light passes through them, refracting light.
V-groove lines are typically linear or curved. They can be left with a rough finish for a textured look or polished for a clear finish.
Insulated Glass Units
Insulated glass units (IGUs) are designed with two, or sometimes three, panes of glass separated by a spacer and filled with an inert gas.
The panes of glass and gas layers create insulation, helping to lower heating and cooling bills. IGUs also help block outside noise.
Tips for Choosing the Right Vendor for Your Project
While all glass projects are different, your glass vendor should meet certain criteria.
By vetting a vendor for glass fabrication capabilities, you'll save your project from unnecessary delays, cost overages, and headaches.
Make sure your vendor is capable of:
Working small – Some of the best glass manufacturers can work on pieces of glass just a few inches in size.
Completing advanced detailing – Edgework shouldn't be overlooked for the final aesthetic and functionality of your piece.
Using a waterjet – The high precision of these machines for both exact and intricate cuts can't be beaten.
CNC grinding – This computerized method ensures glass products meet your exact specifications for shape and size. It can also correct production flaws.
Communicating Your Glass Fabrication Requirements
When working with a commercial glass fabricator, communicating all the details of your project is key. This ensures the final piece is exactly what you need.
Tell your commercial glass manufacturer exactly what you'll be using the glass for and discuss all of your specifications up-front, even down to details such as tolerances.
Save time – and labor – by providing your glass piece's:
Application – How will it be used? This helps your glass fabricator determine which processes it needs.
Fabrication requirements – Will it be tempered? Laminated? Cut to a certain size and shape? Do you need cutouts for hardware?
Tolerances – Is there a special frame or opening the piece needs to fit?
Specifications – By all means, if you have technical drawings or files, share them.
Budget – Let your vendor help you find ways to consolidate costs.
Deadline – Rome wasn't built in a day, nor will your custom glass be fabricated overnight. Well-communicated timelines are crucial.
With in-depth information and excellent communication, a skilled glass vendor using modern technology and state-of-the-art machinery can create custom, high-quality pieces to your specifications and on time.
Final Thoughts on Glass Fabrication Services
As a highly versatile material, glass is seen everywhere in architectural design and décor.
Whether it's to achieve a certain aesthetic, create a functional piece, or enhance the safety and security of a space, look for custom glass fabrication services from a reliable vendor.
Ready to Learn More?
Find out more about glass fabrication and what's achievable. Check out our Guide to Partnering with a Commercial Glass Company: