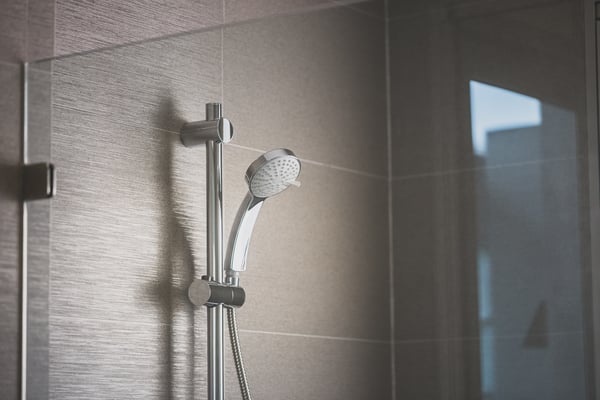 The question of installing a shower versus a bath has been hotly contested over the years. While spa tubs were once all the rage, many home builders and designers see a trend toward removing the tub and installing a bigger shower. Today's showers are larger, more luxurious, eco-conscious, and safer for older adults than ever before.
Stunning new design options for 21st-century homes can include a Wi-Fi or cloud-based digital shower, wireless speakers, thermostatic trim plates, chromotherapy lighting, and an incredible variety of luxurious shower heads.
Whether as part of a walk-in shower or a bathtub/ shower combination, the new affinity for showers offers a great opportunity to commercial installers, architects, and interior designers everywhere. But, before all of the fancy gadgets and modern technology can be considered, it's crucial to start with dependable shower glass panels.
Here are some elements to consider regarding glass panels for shower enclosures.


Custom Shower Glass Panels: Keep Customers Happy
The key is to think of the shower as a major component of the bathroom design, and not as a last-second decor decision. Make choices about frameless vs. framed or semi-framed, flat walk-in vs. curbed, and aesthetic appeal as part of the bathroom decor.
Take careful measurements, keeping tile, marble, or stone elements in mind, and then work with a custom glass manufacturer who can meet the demanding requirements of the end user.
For shower panels, submit drawings that show hinge templates and a view from the exterior of the shower enclosure. An experienced manufacturer can provide custom glass enclosures that can easily be installed with tolerances of as little as 1/16th inch.
Depending on the design, the glass will either be secured to the wall or bonded to aluminum channels. Seal all edges securely with silicone and test for leaks.


What Type of Custom Glass is Best for Shower Enclosures?
Custom glass decisions should be made based on usage, safety requirements, and visual design needs. Most showers use tempered glass, which is available in a variety of colors and patterns to satisfy just about any aesthetic requirement
Tempered glass is the strongest type of glass. If the glass was to shatter, it breaks into smaller and less jagged pieces than standard, annealed glass -- thus reducing the chances of severe lacerations and injuries upon breakage.
One great example of a coated glass designed for a specific purpose is ShowerGuard. It is baked into the glass to provide permanent protection against corrosion, staining, and the ugly build-up of soap and mineral particles.
Low-iron glass is also a popular choice for shower glass panels as it maintains its absolute clear tint no matter how thick a piece is. Traditional clear glass tends to display a green/blue hue in thicker pieces. Even very thick pieces of low-iron glass maintain superior clarity and allow more light to seamlessly pass through, allowing for no visual obstructions.


The Benefits of a Custom Glass Manufacturer for Shower Enclosures
Take Care of Your Shower Glass
Download our cleaning guide to ensure your customer's shower glass lasts for years.
A custom glass manufacturer has the background and expertise, skill, technology, and equipment to produce high-quality glass that looks stunning in any shower enclosure design.
Instead of trying to fit the shower design to available products, a custom manufacturer works hard to offer options to fit the design instead:
Custom Glass Fits Specific Design Needs: Decorators and contractors have greater flexibility with tinted glass or decorative obscure glass. Colored glass options such as bronze or grey can add a luxurious feel. Non-colored or low-Iron glasses, help to keep the views of tile and stonework clear. Patterned glass, such as Berman glass, bubble glass, acid-etched, German antique, or rain glass, can add depth and beauty.


Custom Glass Can Be Cut to Exacting Dimensions: Custom glass can be cut into several shapes and dimensions to meet unique project needs. If the stonework and other shower components were installed poorly, you want glass that can complement and mask any errors, and contribute to an overall polished design.


Cutouts Can Be Added to Meet Customer Specifications: Let the manufacturer know what you need for hinges, hardware, or other design elements for glass shower doors


Showers are the perfect place for relaxation and comfort. With custom glass enclosures, they can also be a centerpiece of bathroom decor that delights your customers for years to come.

Work With Us For Your Next Shower Project
New Angle Beveling has decades of experience partnering with companies on their commercial glass projects. Call us today.


(Editor's note: This article was originally published in September 2019 and was recently updated.)