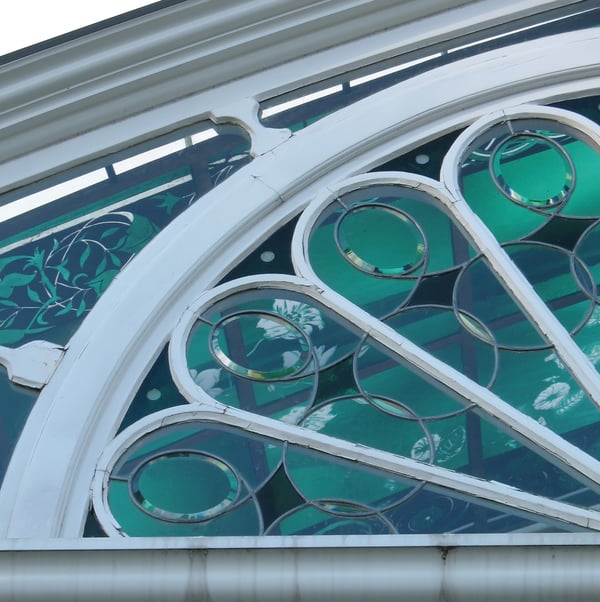 In the interior décor and commercial design world the tiniest details usually make the most significant difference and bring the real "wow" factor to a room. Such is the case when it comes to beveled glass.
This creative addition to décor specifications can boost a creation from basic to elegant. Just when it might start to feel like every design element looks the same, the use of beveled glass can make all the difference in the world.
How Is Beveled Glass Made?
Beveled glass is made by creating an angled surface around the entire outside edge of a larger piece of glass, usually at an angle of fewer than 90 degrees.
The bevel adds an appealing design element and acts as a prism for light to create fascinating color highlights that would be absent in flat glass applications. This manufacturing difference makes beveled glass a unique choice for most design applications.


What Is Beveled Glass Used For?
Beveled glass is most commonly used for aesthetic reasons, as it lends itself to many design features due to its ability to act as a "blank canvas."
Some applications where it adds the perfect touch include:
Creating a dramatic entrance: Using beveled glass as an insert or adding a transom or side highlights with beveled glass to frame a majestic wooden door creates a remarkable welcome for visitors.


Fashioning the perfect window statement: Windows are the optimal place for beveled glass because it captures light in extraordinary ways. The joyful play of sunshine through the bevel will create a rainbow of colors and enhance the beauty of the window treatment.


Highlighting stunning mirror placements: Mirrors are often used to increase the reflection of light in a room. Beveled mirrors enhance this effect even more.


Adding fashion to walls: Wall design does not have to be limited to paint and paper – beveled glass brings a higher degree of design creativity.
Beveled glass is also perfect for changing ordinary table tops into a piece of art, turning plain walls into a focal point, or bringing an extra touch of uniqueness to cabinet doors and fine furniture.
V-grooving is a type of beveling. The difference? Cut designs are added to the interior surface of a glass pane.
Resource: Learn more about V-grooving options:
What Are the Benefits of Beveled Glass?
Beveled glass is a classic choice in home and office design for many reasons:
Versatility: Beveled glass allows designers to create sophisticated designs that leave a great impression on clients and viewers of the completed product.

Variety: Beveled glass is not limited to clear glass applications. Both tempered and annealed glass can be beveled.

Functionality: Beveled glass can also be used for insulated glass purposes, adding to its practicality. The bevel width can vary depending on the desired final appearance.

Diversity of Design: Designers love the ability to use beveled glass in frosted, colored, or clear applications. It moves from simple to more complicated designs, and multiple pieces of beveled glass can be combined to create a unique creation.
The most significant benefit of beveled glass is that it is unique and beautiful. It adds to the enjoyment of an existing environment or cost-efficiently ups the resale value of a property.
Beveled glass provides sophistication and quality when designing or upgrading a home or office.


Download our Edgework Terminology Guide to help your customers add elegance to their next project.
(Editor's note: This article was originally published in June 2019 and was recently updated.)