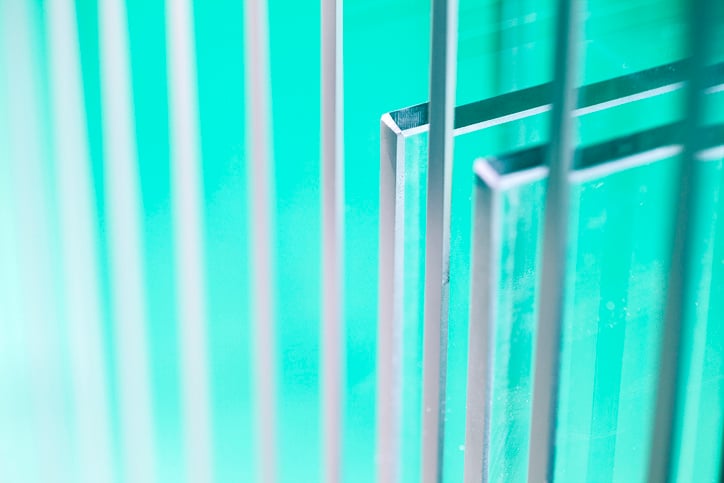 From creating an elegant custom shower enclosure to fitting seamlessly into an odd-shaped space, tempered glass can be cut into almost any shape your project demands.
When using shaped glass in a project, the last thing you want is to receive a piece that's too big, too small, or just doesn't fit. Small errors in measurements, thickness, or placement of specific cutouts can make a tempered glass pane unusable.
That's why it's critical to provide your commercial tempered glass manufacturer with all the right information so there's no difference between the product you intended to order and the one you install.
(Resource: Want to know more about tempering? Read our guide!)

Why Use Commercial Tempered Glass?
Tempered glass is a popular choice as a shaped glass because of its 3 main characteristics:
Strength: Tempered glass is one of the strongest glass types available -- it's 4-5x stronger than annealed glass.
Safety: When tempered glass is broken, it shatters into pebble-like pieces rather than jagged shards. While these pieces can still cause harm, they limit the risk of deep cuts and other serious injuries.
Heat resistance: Tempered glass sheets can stand up to higher temperatures for longer periods of time without breaking.


Key Information for Tempered Glass Design Shapes
Getting the right shaped piece of tempered glass for your project requires attention to detail -- and that starts and ends with its specifications.
Here's what you'll need to provide to your commercial glass company:


Glass Type
Determining the type of glass -- be it low-iron or patterned glass -- for your project is your first step. For almost every project, there's an ideal glass type.


Detailed Renderings
Tempered commercial glass shaping is an intricate process and can only be done once per pane. Giving shape to a piece of tempered glass starts before a pane is put through the tempering process.
Glass manufacturers need as much detail as possible about your project and custom-shaped pane of tempered glass. Without it, you run the risk of receiving a misshapen finished piece, which means:
Project delays
Increased expenses
Detailed renderings provide a visual representation of the final product, with all the specifications needed to create your shaped tempered glass pieces -- eliminating multiple phone calls for additional information and delays.
Tempered glass fabrication renderings should include:
Precise measurements, including glass thickness
Exact locations of cutouts, holes, or notches
Manufacturer specs on hardware to be attached
Provide renderings in a legible format so those creating your shaped tempered glass piece can easily discern all information.
In instances where measurements can't be created, such as for free-form shapes, your fabricator will need a full-size pattern.


Edgework
Edgework occurs right before a glass pane is superheated and quickly cooled for tempering.
While glass edging removes sharp, jagged edges where cuts were made, it also adds a touch of sophistication to a finished piece.
Popular edgework styles include:
Flat edge
Pencil edge
Beveled edge
O.G. edge
Bullnose edge
Triple pencil edge
Polishing is an additional finishing option for shaped tempered glass that enhances a pane's reflectivity. V-Grooving can also be incorporated to enhance the appearance of the piece.
How Long Does It Take to Create Shaped Tempered Glass?
With the necessary information, glass fabricators quickly get to work creating your custom-shaped tempered glass.
Production time can vary based on the complexity of work and work already scheduled for other customers. It's best to talk with the tempered glass manufacturer about current lead times to shape and temper a piece of glass.


Want to learn more about partnering with a commercial glass company?
Download our Guide to Partnering with a Commercial Glass Company!
(Editor's note: This post was originally published in July 2020 and was recently updated.)