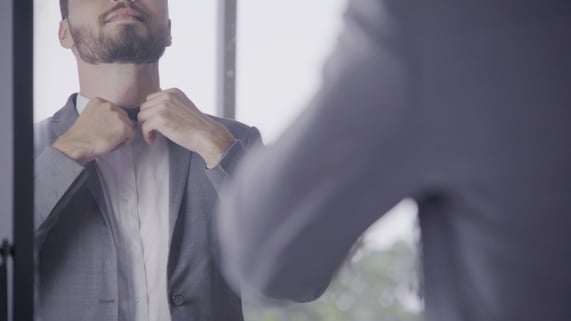 Consider the impact commercial mirrors make:
A salesperson heads out to a big pitch meeting. Wanting to look perfect, they stop and make last-minute adjustments in front of a large mirror on the hotel lobby wall.
That same mirror provides a warm and welcoming ambiance for hotel guests as they enjoy a cup of coffee and catch up on the morning news.
Commercial mirrors improve a space with functionality and a touch of sophistication. Manufactured in various sizes, colors, and types of glass, mirrors are used in several applications -- from commercial bathrooms to offices.
8 Places Where Commercial Wall Mirrors Work
Commercial wall mirrors can add flair to a space, create a sense of openness, and even improve security. Keep these questions in mind while considering a mirror's size, style, and placement. Is the mirror needed to:
Blend in?
Stand out?
Enhance lighting?
Serve function?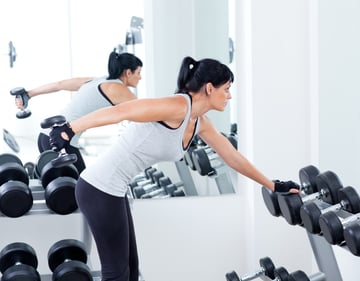 Think about the mirrors in a boutique. They allow customers to see how clothes look on them and add elegance to a high-end shopping experience.
Or the mirrors that line the walls of a gym. They improve lighting and make the space feel even roomier.
Understanding your need for design and function can help you to choose the best mirror for your client's space.
Commercial mirrors are perfect for:
Dance studios: Full-length wall mirrors in dance studios are essential for dancers as they strive to perfect their form or learn choreography.
Gyms/fitness centers: Bad form can be dangerous when exercising. Mirrors help prevent injury by allowing people to watch their technique.
Bathrooms: Full wall mirrors make a bathroom more aesthetically appealing by reflecting light and images.
Office spaces and waiting areas: Commercial full-length mirrors and smaller accent mirrors provide style and class to office spaces and waiting areas.
Beauty salons: Mirrors allow salon customers to watch their stylist create the perfect look. Combined with lights, mirrors help stylists ensure color accuracy for dye and highlight work.
Bar and restaurant walls and backsplashes: A full wall mirror design can reflect the style of a bar or restaurant, from casual to elegant. It can also create the illusion of a larger footprint, making the patron feel less cramped in narrow spaces.
Dressing rooms, bridal shops, and boutiques: Commercial wall mirrors are crucial for making sure that new pair of jeans or a wedding dress fit is perfect.
Hotels and hospitality spaces: Looking to leave your guests with a lasting impression? Commercial wall mirrors create more brightness in rooms. A well-placed room makes larger areas seem cleaner and can accentuate room features.


Commercial Wall Mirrors for Security
Privacy and security should be discreet. A one-way mirror makes this possible without sacrificing style. Mirropane™ by Pilkington provides clear and undetected viewing into the room without being seen.
Mirropane™ is ideal for:
Retail stores
Supermarkets
Airport security
Banks or cash offices
Medical facilities
Computer rooms
Child care facilities
Marketing focus group rooms
Police stations




Types of Commercial Mirrors For Design and Function
Your client wants a stylish mirror that still functions as a mirror should.
This request may sound challenging. Don't worry: you won't need to choose between design and function. Both considerations can combine in a variety of ways. Here are six types of mirrors and what they can do for a space:
1. Colored Mirror Glass
Whether creating depth, adding brightness, or just making a space look more distinct, colored mirror glass is an eye-catching option for enhancing a project's aesthetics. Clear, grey, bronze, and black mirrors are popular choices.


2. Low-Iron Mirror
Does your client need mirrors with supreme clarity and reflectivity? Low-iron glass mirrors are effectively colorless, as they contain only a minimal amount of ferric oxide -- the chemical that gives standard glass panes a greenish tint.
If you're choosing a mirror for a high-end space, such as upscale restaurants or hotels, the crisp reflection of a low-iron mirror is a great choice.


3. Copper-Free Mirror
Does your project need a mirror that can stand the test of time and a hot and humid environment (think: bathroom)? Copper-free mirrors are made to last.
Copper-free mirrors are backed with a specialized primer that doesn't contain copper before the silvering is applied. The lack of copper increases the mirror's lifespan as the additional protective layer protects the silver backing from heat, humidity, and cleaning chemicals.
(We can only provide copper-free mirror for large-quantity projects).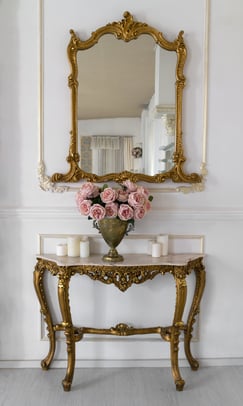 4. Antique-Style Mirror
Ideal for restoration projects, an antique-style mirror achieves a vintage look without having to purchase old mirror glass.

5. One-Way Mirror
Similar to a window, viewers on the backside of the mirror have an unobstructed -- and undetectable -- view of a room. On the other side, Mirropane™ appears as a regular mirror.


6. Traditional Mirror
This mirror is the most common type on the market. Traditional mirrors are easily fabricated into a variety of shapes and sizes. However, these mirrors aren't good choices where excessive moisture is a concern. For example, if the bathroom has a shower, long-term exposure to steam and condensation can ruin a mirror's silver backing, giving it a cloudy appearance. Re-silvering a mirror isn't an easy process. It's also not cost-effective.
Check out the listing of our available inventory and each product's associated technical/performance data.

Considerations In Choosing the Right Commercial Mirrors
You want to choose a mirror that aligns your client's needs with the capabilities of the mirror. When choosing the best mirror for a client's project, there are some things to keep in mind:


Fabrication
Project details: When working with a commercial glass company, it's

critical to share the details about your project

. You don't want to receive a mirror pane that isn't what you wanted.
Building codes: You may have the perfect mirror for the space, but if it doesn't meet local building codes, it's not a mirror you can use.


Aesthetics
In spaces meant to be bright, some colored mirrors -- such as black or grey -- may not be a good choice. Those mirrors are better suited to create a voluminous and luxurious aesthetic for a room.
Just as color and style play an important role in how well a mirror complements a space, so does its shape. A unique shape makes a decorative statement.
Additional enhancements to commercial mirrors include

beveling

,

v-grooving

, and

edgework

.
Antique mirrors don't have universal applications. They don't blend well into a modern design scheme, though they can add distinct contrast if used correctly.


Mirror Size Makes a Difference
Have you ever walked into a living room and noticed that it barely holds the leather sectional? It may be a comfortable couch with a color that matches the room's decor, but its size makes it seem out of place.
The same applies to mirrors. A mirror that's too big or too small for its space won't provide your client the aesthetic they seek.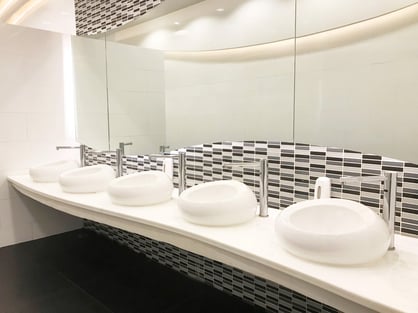 When determining how big or how small a mirror you'll need, keep these tips in mind:
Large, frameless mirrors are a great choice when you want a mirror to blend in with the scenery. Because of their size, eyes are drawn to other decorative elements of a room.
Smaller mirrors make great accent pieces. Be mindful that when you hang a small mirror by itself on a large wall, it won't stand out in a good way -- it'll look out of place.
In spaces meant to be bright and open, such as bathrooms with a modern motif, large clear mirrors allow for plenty of light reflection. They also give the illusion of more space.
Mirrors hung above furniture should not be wider than the piece itself.
A mirror's size should pair with its intended use. Bathroom and vanity mirrors aren't small for a reason -- people use them to see their reflections.

Is There an Ideal Sheet Size for Commercial Mirror Projects?
The short answer is: No.
It's best to design mirror projects using glass sheets that stay within industry standards. Glass manufacturers should be able to work with small sizes up to 96x130 or 100x144, depending on what you want.
Mirror pieces can be made in almost any shape. However, the size of the commercial mirror glass sheets used to create them does play a role in their price.


4 Popular Styles of Commercial Mirrors
Looking for that "something extra" for your client's project? There are a variety of popular mirror styles, including:
Infinity floating mirror: Elegant polished mirror floating gracefully in a handcrafted steel frame.

Beveled glass

is available.
Channel framed mirror: Secure, functional, and spare; channel framed mirrors are an affordable and stylish choice for any space. These mirrors are installed with a J-channel, making them both secure and functional. They are typically less expensive and are great for large areas, like dance studios and gyms.
Angle frame "snap" framed mirror: This high-quality glass or steel mirror is set in a solid hand-welded frame, polished and sanded to remove miters. These mirrors are smaller and typically found over sinks in travel center bathrooms.
Fixed tilt mirror: Fixed-tilt mirrors ensure total visibility for users and are mounted in a solid, polished, mounted frame. These mirrors are great for handicapped-accessible bathrooms.


Choosing the Right Mirror For Your Bathroom Project
Unsure which mirror type is optimal for a bathroom? Ask your commercial glass manufacturer -- they'll help you match up the proper mirror to its intended use and bathroom environment.


How Much Do Mirrors Cost? & Other Custom-Made Mirror FAQs
Choosing the best mirror for your project isn't a quick-and-easy task. You need to know a mirror's capabilities and be able to give your glass fabricator exact details about your project.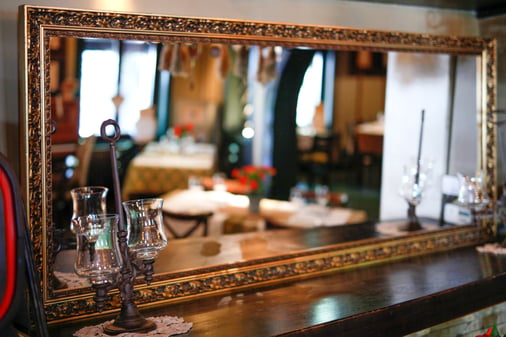 Here are some frequently asked questions we get and some answers.
How Much Do Mirrors Cost?
As with any décor element, several factors go into cost considerations for mirrored walls. The cost of the mirror is based on:
Can I Have Cutouts in My Mirrored Wall?
Yes! It's possible to manufacture unique mirror cutouts for everything from medicine cabinets to receptacle openings and ballet studio bars.
Cutouts in mirrors exist in:
Commercial and residential bathrooms
Home gyms
Commercial art or dance studios
Commercial gyms
Be sure to provide exact measurements to the mirror manufacturer that can create the cutout to the appropriate size during the production process.


How Do You Clean Commercial Mirrors?
Use a non-ammoniated cleaner on your commercial mirror, as ammonia can damage the mirror edges and backing. Spray the cleaner onto a cloth, and clean the glass surface.


What Happens If My Commercial Mirror Breaks?
Safety should always be the #1 concern in the case of a broken mirror. Keep people out of the area and safely clean up all the broken pieces before assessing the extent of the damage.
Depending on the extent of the break, it's possible to repair a broken mirror. If it's one panel of a mirrored wall, it might be feasible to replace just the panel. If the damage is too severe or the mirror poses a safety hazard to employees or customers, it's usually best to have it replaced.


How Do I Remove a Commercial Mirror?
The work involved depends on the mirror's size and its installation. The removal process should be straightforward for a smaller mirror clipped to the wall. However, removing large commercial mirrors that have been adhered to the wall will require much more effort.
In the case of an oversized commercial mirror, it is usually best to contact a professional installer.


How Can I Ensure My Mirror Lasts?
Your client doesn't want to replace their mirrors every couple of years. You can ensure the mirror's longevity with proper installation techniques (which we discuss below) and by providing your clients with correct cleaning techniques (which we discussed above).
The longevity of your mirror will also depend on the quality of the mirror. Mirrors manufactured in the United States tend to be higher quality than those created abroad.
Copper-free mirrors are best for high-moisture areas. Ask your manufacturer to seal the side of the mirror if you're installing it in a high-moisture space, such as a bathroom. Doing so helps protect the silver from eroding and degrading over time and keeps the mirror looking beautiful for longer.
Commercial Mirrors: Tips for Proper Handling, Installation & Upkeep
Mirrors might be the most fragile part of your project. Mishandling them can lead to broken glass. Broken glass means an unhappy client, wasted time and money, and a potentially dangerous situation for those handling the glass.
Protecting mirror sheets, your staff, and clients is about taking the proper precautions from the moment you receive them through installation. Here are some tips to ensure a successful mirror installation:


When Your Mirror Arrives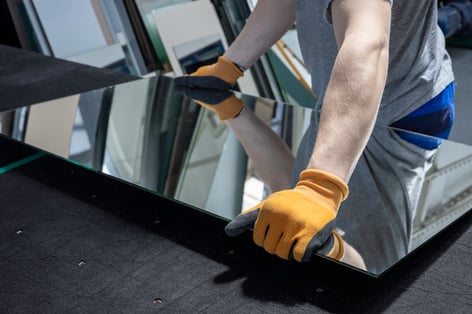 The mirrors were delivered and are now in your hands. As soon as you get the shipment, be sure to:
Inspect it for obvious breaks while still in its packaging. Doing so will keep any glass shards within the packaging if the mirror broke during shipping.
Wipe away any moisture on the mirror panes with a dry cloth to prevent staining or degradation of the silver backing.
Store mirror panes in a dry, well-ventilated area with a stable temperature. Failure to do so may hurt the integrity of a mirror's silver backing.
Store panes vertically. Laying a mirror flat puts strain on the sheet when lifted, increasing the risk of breakage.


Moving Large Commercial Mirror
Moving large commercial mirror is a team job. Panes can be heavy and awkward to carry alone. Trying to do so can increase the risk of injury and breaking the mirror. To prevent this:
Use two hands: This improves stability and reduces the chances of dropping the mirror.
Wear rubber-backed gloves: Gloves give you an improved grip and protect your hands from cuts or splinters from mirrors with unfinished edges.
Seek assistance: Don't risk dropping a pane because of overconfidence in your abilities to move it!


Commercial Mirror Installation
Installation requires planning. You want the tools, help, and careful skill to install a mirror that will enhance your client's project for years to come. These tips will help you make that happen:
Have the right tools readily available to help you work efficiently to secure the mirror in place. Most mirror installation jobs call for a:

Pencil
Level
Measuring tape
Stud finder
Screwdriver
Drill
Hammer
Have an assistant: An extra set of hands goes a long way to keep a mirror sheet safe and stable during installation. A helper can reduce your chances of damaging the glass while offering a second opinion on placement.
Follow directions: Whether you're hanging a mirror using standard hardware, a J-channel or L-bar, or an adhesive, follow installation directions and use products recommended by the manufacturer. Deviating from the instructions may mean you hang your mirror improperly, increasing the odds of it falling.
Mount to the studs: Fasten mirror mounting hardware to wall studs. This point is essential for heavy pieces. Building materials such as drywall or plaster do not have the strength to support heavy objects.
Know your adhesive's compatibility: Be mindful of the piece's safety backing and the type of adhesive you use. Certain adhesives may not bond properly with safety backing, increasing the chances for the mirror to fall. The chemical composition of some adhesives may also damage a mirror's silvering over time.
Prepare the surface: Surface preparation is critical -- especially when hanging a mirror via adhesive. If you recently painted the wall, ensure enough time has passed to dry and cure. An uncured painted surface can't support the stress placed on it by an adhered mirror.



Partner With Your Glass Manufacturer For the Right Commercial Mirrors For Your Next Project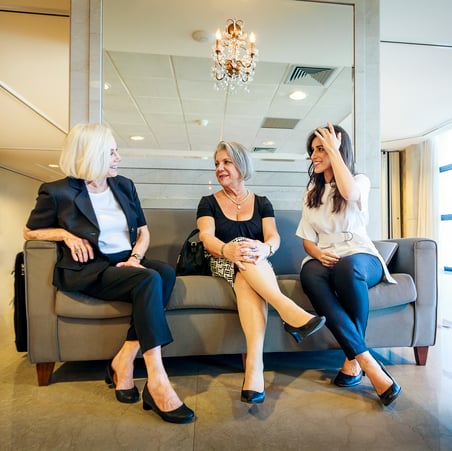 A versatile design element, commercial mirrors add the right finishing touch to a project with their combination of form and function. Whether you need accent mirrors for a wall in a hotel lobby or a full-length wall mirror for a dance studio, your glass fabricator will help you find the perfect choice for your client's project.


Interested In Partnering With New Angle Beveling?
We have more than 50 years of experience working with customers to create glass products rooted in quality, accuracy, and timelessness. We've worked on commercial glass projects ranging from manufacturing custom insulated glass units and tempering glass pieces to heavy glass shower enclosures and glass staircases.
We pride ourselves on our experience, attention to detail, and ability to become a partner for your project. Contact us and let's get to work!