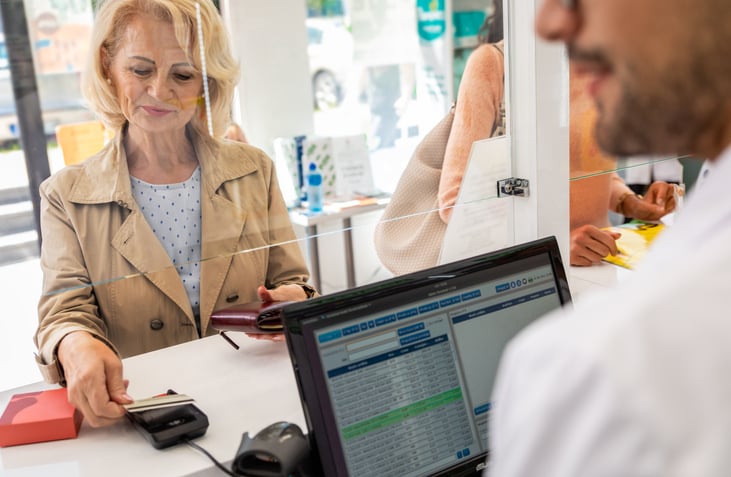 In the wake of the COVID-19 pandemic, businesses and organizations are having to rethink how they operate safely.
One solution that many have turned to is using glass partitions or barriers in public spaces. Glass barriers can help protect both employees and customers by providing a physical barrier between them while still allowing for an open environment with natural light and visibility.
In this blog post, we will explore the benefits of glass partitions for health and safety, as well as some tips on how to use them effectively in your business or organization.
At New Angle Beveling, we have in stock and can fabricate glass to help your business meet public health standards.
New Regulations for Public Health
The threat of infectious diseases, such as COVID-19, has drastically changed the way public spaces operate. To protect the health and safety of people everywhere, governments at all levels have implemented stringent regulations.
A few of the most important guidelines for places like grocery stores, banks, and government offices include:
Regularly disinfecting high-use surfaces and
Installing partitions to limit people's exposure to one another
It is likely that health regulations like these will continue to be in place for public spaces and workplaces. Even if a virus is no longer considered an active threat, many people will still feel a heightened sense of caution and safety when out in public.
Benefits of Glass for Partitions
Glass partitions are an effective way for businesses and facilities to uphold health regulations while still allowing customers or guests to access services. By providing a physical barrier between people, glass partitions help prevent the spread of disease without limiting customer service. They come in many shapes and sizes, making them practical for any setting.
Glass partitions provide a permanent and long-lasting solution to helping keep your staff and customers safe. That means the glass you install now to meet new public health standards needs to be installed once -- protecting the integrity of your investment.
Most installers choose glass for partitions because it:
Is highly durable and can withstand high levels of foot traffic
Is easy to clean and maintain
Comes in different styles, shapes, and sizes for all spaces
Enhances the aesthetic appeal of any space
Is a permanent solution
In some instances, retailers and employers have installed plastic sheets or clear acrylic panels, such as Plexiglass, as protective barriers anywhere face-to-face interactions typically happen.
While these approaches do provide a functional solution to meeting public health guidelines, they aren't without their downfalls.
Unlike glass, plastic and acrylic barriers:
Lose clarity after multiple cleanings with strong chemicals
Weaken after repeated cleanings with harsh disinfectants
Scratch easily from dust and dirt -- even when using a soft cloth during cleaning
Take away from the design aesthetics of a space
Glass Partition Manufacturing
At New Angle Beveling, we not only manufacture glass to create custom protective barriers but also to enhance public safety.
We suggest either tempered or laminated glass, or a combination of the two – tempered laminated glass – for partitions.
Through our tempering process, in which glass is heated to extreme temperatures and cooled quickly, panes of glass are made 4-5x stronger than annealed glass. Should it break, tempered glass shatters into pebble-like pieces rather than jagged shards.
Tempered glass is ideal for spaces where glass strength and public safety are considerations.
Our laminated glass boasts a thin protective layer plastic that is bonded between 2 panes of glass. If broken, laminated glass does not fall apart. Instead, its pieces -- though cracked -- remain in place, protecting those on both sides of the glass should a breakage occur.
Glass Partition Shaping and Custom Cutting
At New Angle Beveling, we can fabricate glass to meet the specific needs of your installation project.
We have the ability to cut glass precisely to fit unique spaces or match the contour of permanent fixtures and semi-permanent objects, such as:
Countertops
Doorways
Registers
Computers
Soffits
Lights
We can shape tempered and laminated glass into nearly any traditional geometric pattern to meet the dimensions of your installation project. Shapes include:
Squares
Rectangles
Triangles
Trapezoids
Parallelograms
Half moons
In addition, we can also create custom cutouts within panes of glass, such as speak holes or pass-throughs, to allow as little interference as possible while conducting business as usual.
See what we offer in shaped glass:
Choosing Glass for Partitions
Glass partitions are a great option for public health and safety regulations. They provide an effective physical barrier between individuals while still allowing them to interact with each other.
They can be easily cleaned and maintained, come in a variety of styles that enhance the aesthetic appeal of any space, and are extremely durable.
With custom shapes, cutouts, and tempered or laminated glass options available, you can find the perfect solution for your business needs that meets all current public health standards.
Investing in glass partitions now will help protect customers as well as staff members long into the future.
Your Next Glass Project
Ready to install glass partitions at your business? Learn more about partnering with a commercial glass company for your partitions and other glass projects. Download our guide: