Here are five glass fabrication capabilities to look for when vetting a glass vendor:
Working small
Advanced mitering/edging
Water jet capabilities
V-grooving
CNC grinding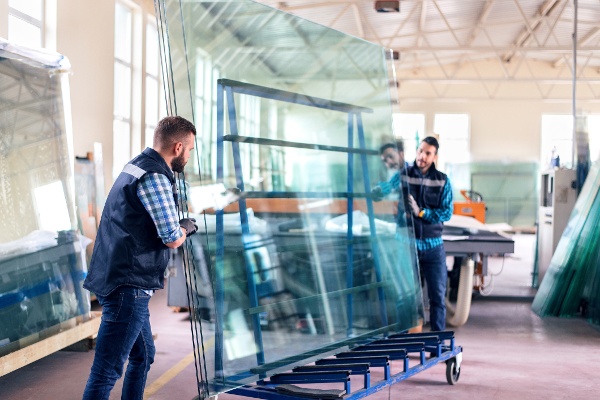 Glass is one of the most widely used materials in architectural design and décor.
A versatile material, commercial glass fits many applications, whether it's enhancing privacy and security to updating or creating an aesthetic.
Regardless of the application, quality glass represents an investment in any project. To preserve the integrity of your design vision and of the product itself, it's imperative to work with a vendor that offers state-of-the-art glass fabrication capabilities to make your glass as eye-catching as it is functional.
Whether you're in the market for a new glass manufacturer to partner with or taking stock of the glass fabrication techniques, there are some key capabilities any vendor should simply provide.


5 Base-Level Glass Fabrication Capabilities to Look for in a Vendor
No one wants to have to order a glass piece that has several stops before it gets to you -- that wastes time and costs money. Here are five capabilities to look for when vetting a glass fabricator:
Working small
Advanced mitering/edging
Water jet capabilities
V-grooving
CNC grinding


1. Working Small
How small can your glass vendor work? Some of the best glass manufacturers can work on pieces of glass just a few inches in size.
These pieces are ideal for many applications -- from trophies to accents in larger glass pieces. Bigger isn't always better (or the only option) when it comes to glass.


2. Advanced Mitering / Edging:
How advanced are the mitering and edging capabilities of your glass vendor? The best fabricators are able to complete glass cutting at any angle. This capability is especially handy when it comes to working with custom-designed pieces or those with non-geometric shapes.
Your glass vendor should be able to miter a unique piece of glass just as easily as glass in a standard 90-degree shower.
Resource: Learn more about different edgework options:


3. Water Jet Capabilities
Water jet cutters aren't just powerful -- they also make short work of completing precise and intricate cuts. This type of precision comes in handy for fabricating:
Intricate cut-outs
Custom designs
Desktops
Glass walls
Mirrors
Switchplates
Windows


4. V-Grooving
V-Grooving can completely transform the look and feel of a space by creating pieces of glass that are so detailed, beautiful, and functional that they almost seem like art.
Similar to routing a piece of wood, v-grooving cuts v-shaped lines into the surface of a glass pane to create detailed patterns. Rather than making deliberate cuts along the perimeter of a glass pane, v-grooving is applied anywhere on a glass pane.
V-grooving is popular in restoration projects as this glass fabrication technique is used to create period designs.


5. CNC Grinding Capabilities
CNC grinding fixes flaws that happen during production.
For example, a piece of tile that's put in unevenly can make it a nightmare for installing custom shower enclosure glass. Through CNC precision glass grinding, the glass pane's edges can be adjusted so it's flush with the tile once put in.
Aside from addressing production issues, CNC grinding also ensures that a glass product meets your exact specifications for shape and size.


Common Glass Products That Undergo Fabrication
Unless you're only ordering a glass sheet with no alterations, most commercial glass products undergo some level of fabrication.
The most common products glass vendors use their skills and equipment to create include:
Saunas for commercial or residential use

Walls of glass with intricate patterns for commercial spaces

Cutouts, transoms, and notched areas for custom showers

Custom mirror switch plates and cutouts

Customized reception windows

Freeform tabletops and glass inserts

Custom glass railings
When working with a commercial glass fabricator, communicating all the details of your project is key. This ensures the final piece is exactly what you need, and not something you'll have to reorder.


Choosing a Vendor That Meets all Your Glass Fabrication Expectations
While all glass projects are different, your glass vendor should meet these basic customer expectations.
By vetting a glass vendor for fabrication capabilities, you'll save your project from unnecessary delays, cost overages, and headaches.


Let's Get to Work on Your Project
With years of experience and thousands of custom glass creations under our belt, our glass products and services will exceed your expectations.
Contact us today!
(Editor's note: This post was originally published in July 2019 and was recently updated.)