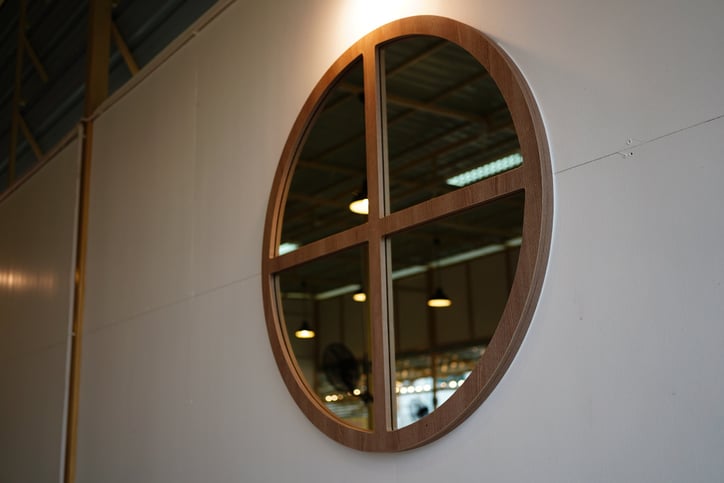 Are you looking to add a unique touch to your designs with custom glass shapes? Working with a glass fabricator to create specialty and curved glass can elevate the beauty of any design.
From square or round pieces to intricate cutouts and curves, custom-shaped glass adds a personal touch that will make your work stand out from the rest.
When working with a glass fabricator, the possibilities are virtually limitless. With the right partner, you can create unique shapes that are tailored to your project's exact specifications.
Whether you're looking for something simple and straightforward or more complex and intricate, custom-shaped glass can give your project a big boost.
Specialty Glass Shapes & Their Benefits
Thanks to computer-aided design (CAD) and waterjet cutting technology, most glass can be cut into unique shapes, curves, and other forms that go beyond the standard rectangular and square cuts.
Custom-shaped glass has a number of advantages:
Create visual interest and add to the overall appeal of any space
Adds a level of sophistication
Presents customers and clients with a feeling of grandeur
Experienced glass fabricators are able to create designs that add visual interest and appeal to any space. These custom shapes can help integrate both aesthetic and utilitarian features into any project.
Standard & General Glass Shapes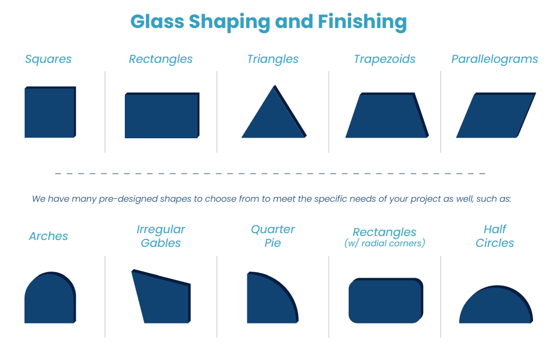 Custom glass designs can come in a variety of forms. Shapes include:
Squares
Rectangles
Triangles
Trapezoids
Parallelograms
Arches
Irregular gables
Quarter pie
Rectangles with radius corners
Half circles
A number of other, specialty custom shapes are also available, such as:
French provincial
Trefoil
Gothic arches
& any other shape imaginable
Designing with Custom Glass Shapes
Decorative glass designs can be used in a variety of ways to enhance any project in any space. From unique shower doors and partitions to creative stair railings, curved windows, and skylights, shaped glass adds a unique and beautiful touch that enlivens and modernizes any design.
Imagine a reception area in a large office building with curved transaction tops and a curved security partition to match, or custom mirrors cut to the shape of your client's brand logo.
Shaped glass is commonly used for:
Doors

and entryways
Windows
Shelving
Countertops
Backsplashes
Tabletops
Custom-shaped glass is ideal for creating a sleek and contemporary look. It can be used to create customized furniture pieces, mirrored wall art, table tops, room dividers, and more. Shaped glass can also incorporate speak holes, pass-thru holes, and any other cutouts for required hardware.
From restaurant windows and storefronts to large office complexes and hotels, custom-shaped glass adds a unique touch that creates a memorable experience for guests and employees alike.
See how New Angle Beveling can create custom glass shapes for your project:
Creating Custom-Shaped Pieces with a Fabricator
When you're working with a glass fabricator to create your specialty glass shapes, they need as much information about your pieces as possible:
What is the final product?
Does it need to be laminated, tempered, or insulated?
What's the required thickness?
Additionally, you should consider whether any glazing or tinting will be required to control heat gain and transmission or to enhance aesthetics and share that information with your glass fabricator upfront.
Clearly communicating your vision for your project to your glass fabricator helps them produce the desired glass pieces to your exact specifications.
In most cases, in order to receive an accurate quote on your piece, a representation of the shape to your best ability should be sufficient. It doesn't need to be the exact size or to scale.
In moving forward with your fabricator, especially for complex shapes, it's best to provide a DXF file or cardboard pattern, if possible. Cardboard, wood, or paper patterns are also acceptable so long as you don't cut them too close to the pattern's edge. Leave some extra material for the fabrication process (similar to the seam allowance on a sewing pattern).
For simpler shapes, providing a sketch of your desired shape on heavy brown wrapping paper is sufficient.
For furniture, such as tables with a glass drop-in, provide a hard pattern of your glass shape on a material such as glass or wood that has been verified to fit in that specific application. This eliminates any guesswork on the fabricator's part and allows them to produce your design with greater accuracy.
By following these tips and communicating effectively with your glass fabricator, you can ensure that your custom-shaped glass pieces are produced to the highest possible standards, creating beautiful designs and enhancing any space. In addition, you can rest easy that you'll get a finished product that won't need to be returned, costing you and your clients time & money.
Glass Finishing to Complement Your Design
Edgework
While designing your custom-shaped glass piece, don't forget about edgework.
The main reason for edgework is to remove sharp sides, but different edging types can aesthetically improve your piece.
Edgework can also help finished pieces meet safety, performance, and cleanliness needs. Consider these glass edge types:
Beveled edge
Mitred edge
Flat edge
Pencil edge
Bullnose edge
Ogee edge
Waterfall
Polishing
Increase reflectivity and luster to glass panes by having them polished to a clear finish.
V-Grooving
Accent glass panes with intricate designs cut into the surface also add increased reflectivity. Similar to chiseling a piece of wood, glass fabricators cut V-shaped lines — both linear and curved — into the surface of a pane of glass to create intricate designs.
Unique Designs with Custom-Shaped Glass
Custom-shaped glass is an ideal way to add unique elements to your designs. By working with a glass fabricator on custom-cut unique shapes and curves, you can create stunning designs that enhance any space. With the right knowledge and planning, you can use specialty-shaped glass to create truly one-of-a-kind pieces of art.
With the help of an experienced glass fabricator, you can create unique and stunning glass shapes that are tailored to fit your exact specifications.
Purchasing Commercial Glass
Need a guide for your commercial glass projects, whether they involve installing glass showers, restoring historical buildings, or creating stunning storefronts and office walls? To learn more, get a copy of our guide to partnering with a commercial glass company: