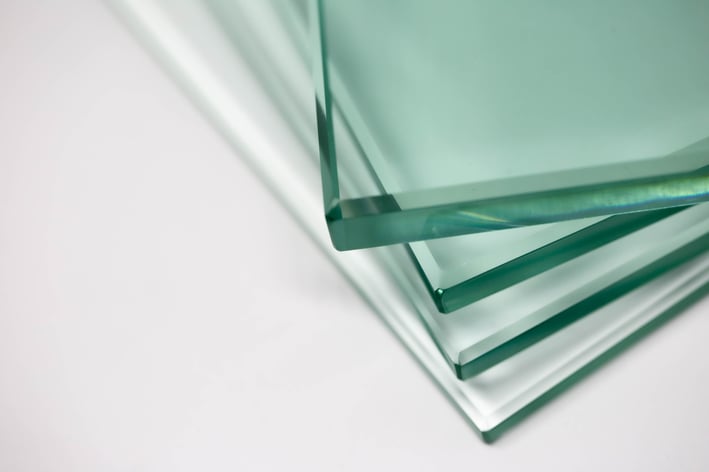 Anyone who works with commercial glass projects knows that blending glass elements into décor adds a bold touch of beauty and elegance to any environment.
From commercial to hospitality to corporate spaces, glass makes a stunning centerpiece and serves as a point of definition from one room to another.
One way to make glass look more stunning is through elegant edgework. The fundamental reason for edgework is to remove sharp sides, but different edging types can improve and accent their appearance. Edgework can also meet safety, performance, and cleanliness needs. It helps to improve the structural tolerance of the entire piece and aids in chip prevention.


Why Opt for Glass Edge Types?
Glass edge finishes serve many purposes. Added to a piece, edges:
Remove sharp edges
Prevent chips
Improve structural tolerance
Upgrade appearance
Complement a space's design
No matter what type of edge is selected, the most important thing to remember is to work with an experienced glass vendor who delivers on quality, accuracy, and meeting your schedule.
A skilled manufacturer working with the right technology and state-of-the-art machinery can produce custom high-quality glass products with the perfect edges that look stunning in any design.


4 Glass Edgework Options That Add Beauty and Drama
For those looking to enhance a glass piece through its edgework, these four styles are equally effective at creating dramatic designs:
Flat edge
Pencil edge
Bullnose edge
Ogee edge


1. Flat Edge: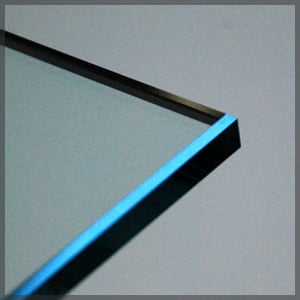 The flat edge adds no roundness, but the edges are polished to present a sleek, clean appearance. A chamfer is added at the transitions of the piece's edges to prevent sharpness.
Flat, polished edge glass is most often used for custom-made or thick glass table tops. It's also a perfect way to showcase the thickness of a particular piece of glass.


2. Pencil Edge: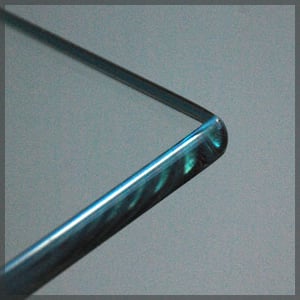 With a pencil edge, a piece's periphery is rounded to a half-circle, or "C" shape, and the new edge is ground or polished for a smooth appearance. It adds an extra boost for applications that need a dramatic aesthetic appearance.
It's best used in furniture as a pencil edge allows the glass to fit more comfortably into the piece. Similar to the pencil edge is the triple pencil edge, which creates more of a waterfall effect.

3. Bullnose Edge: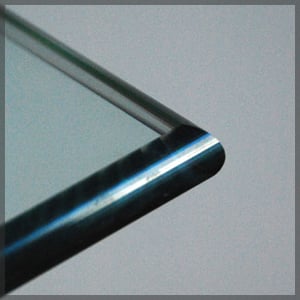 The bullnose edge is similar to a pencil edge (a semi-curved edge) but incorporates a true radius curve, giving it a full, rounded look. The result is that the diameter will match the thickness of the glass itself.
A bullnose edge leaves a smooth finish and can be polished or ground if required for a specific application.

4. Ogee Edge: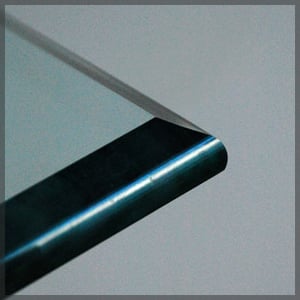 Also known as O.G. Edge, this is a more distinctive edge incorporating a combination of convex and concave curve joining.
When finished with a polish, the ogee edge creates an elegant and appealing eye-catcher. This edgework style is suited for tabletops and desks.


Beveling As an Edgework
Beveled glass is created by cutting edges at a specific angle or slope around the entire edge of a piece of glass. The newly exposed glass edge is then polished to reflect light better and match the rest of the piece. This edge type is most commonly used for aesthetic reasons because it is the easiest to design.
Creating a sense of depth, beveled edges are a unique choice for:
Glass table tops
Window accents
Shower doors
Dramatic entryways

Bevel edging can be applied to frosted, tinted, or clear glass to add subtle nuances to more complicated design choices. It's also used on tempered or annealed glass. A clever combination of multiple beveled glass pieces will create unique and stunning displays.


Glass Thickness for Beveled Glass
Bevels can typically be fabricated in various sizes based on the thickness of the piece of glass:
1/8″ (Bevel Sizes: 1/4″*, 3/8″*, 1/2″*)
3/16″ (Bevel Sizes: 1/4″, 3/8″, 1/2″, 5/8″, 3/4″, 1″, 1 1/4"*)
1/4″ (Bevel Sizes: 1/4″, 3/8″, 1/2″, 5/8″, 3/4″, 1″, 1 1/4", 1 1/2", 2″*)
3/8″ (Bevel Sizes: 1/2″, 3/4″, 1″, 1 1/4", 1 1/2", 2″)
1/2″ (Bevel Sizes: 1/2″, 3/4″, 1″, 1 1/4", 1 1/2", 2″)
3/4″ (Bevel Sizes: 1/2″, 3/4″, 1″, 1 1/4", 1 1/2", 2″)
*Beveled edge is not available on this thickness if the glass is tempered.


V-Grooving: A Close Relative of Glass Edgework
Though not the same as edgework, v-grooving adds designs to glass pieces using the same principles.
Like chiseling a piece of wood, v-grooving cuts v-shaped lines into the surface of a glass plane. Rather than making deliberate cuts along the edge of a glass piece, v-grooving is applied anywhere on the pane.
Like beveling and other edgework styles, v-grooving adds definition and sophistication to a finished glass piece. Typically linear or curved, v-groove lines can be left with a rough finish for a textured look or polished for a clear finish.



Other Surface Applied Fabrication
Outside of glass edgework, other glass fabrication techniques that enhance design include:
Notched corners
Internal cutouts
Speak holes
Pass-through cut-outs
Edge notches
Hinge cut-outs


Glass Edge Design to Elevate Your Project
Glass edgework is one of the easiest ways to add an upgraded aesthetic touch to any piece. Coupled with other glass fabrication elements, glass edgework gives a project an overall appearance of completeness.


Help Customers Add Beauty to Their Glass
Download our Edgework Terminology Guide to help your customers add elegance to their next project.

(Editor's note: This article was originally published in December 2019 and was recently updated).