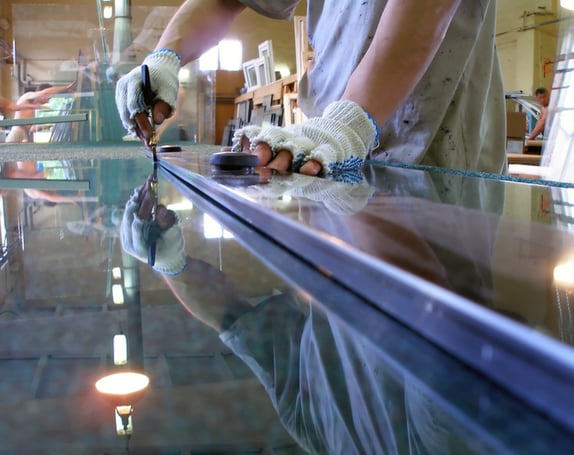 Sketches are quite literally the blueprints of the glass components of your project. The same can be said about templates for specialty-shaped glass.
Providing your commercial glass company with accurate and detailed sketches or templates keeps both of you on the same page. It also eliminates the need for unnecessary back-and-forth phone calls, allowing you to focus on other parts of your project while your fabricator gets to work.
When partnering with a commercial glass company to create a unique glass pane, here's the information your sketches and templates should include for a successful project.


What Comprises a Usable Sketch for a Commercial Glass Company?
There are many details a commercial glass company needs to know about your project. The key to creating a usable sketch for a commercial glass manufacturer is two-fold: accurate measurements and presentation. Your manufacturer shouldn't have to struggle to understand the details on a sketch, nor should they have difficulty using it to craft the final product.

Measurements
Glass manufacturers need exact dimensions included in sketches. Without them, you've essentially provided a picture of what you'd like and nothing more. While it's helpful to see what the finished product should look like, a wall mirror supplier will find it almost impossible to create your product.
Precise sketch measurements ensure your glass manufacturer efficiently and accurately completes your job. They also guarantee that the finished product fits perfectly where it's supposed to -- even with uncommon shapes, such as parallelograms or pieces with unique dimensions.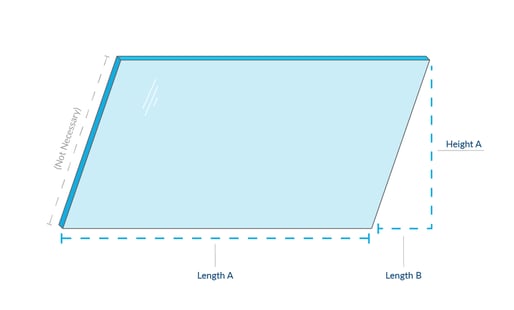 Measurements to include are:
Side lengths
Heights
Thicknesses
Block sizes
Offsets
Inside radius (if known)
Tracing of questionable areas may be required


Presentation
Sketches are best provided to manufacturers on single pieces of:
Cardboard
Wood
Heavy paper
Digital files such as DXF or PDF
Unacceptable sketch formats include:
Wrapping paper
Newspaper
Plastic sheets
Sketches provided need to have clearly defined lines as well the precise locations of any cutouts, notches, or hardware. For glass walls, windows, or shower enclosures, pictures of the space where the glass product will be installed are also helpful, but not necessary.

Resource: Learn about available shape options for your commercial glass pieces:
Creating Templates for Commercial Glass Companies
In some projects, creating a detailed sketch may be difficult -- especially when it comes to intricate patterns for specialty glass fabrication, such as glass for custom-shaped mirrors or picture frames. Templates are the next best thing.
The most important thing for your pattern template: It must be to the exact size and shape of what you want to be fabricated.
That doesn't mean, however, you should provide a template that's already cut to size -- this increases the risk for rough edges that make a template unusable. A tracing of the pattern with plenty of blank space around it is sufficient.
Templates must:
Be on a single piece of wood, cardboard, or heavy paper
Feature thin, distinct lines
Denote where the edge of the pattern is in relation to lines -- is the edge on the inside, outside, or center of the line?
Not be cut to the object's exact shape



Partnership With a Commercial Glass Company: A 2-Way Street
Working with a glass fabricator is a partnership of sorts.
During the quoting stage, the more information you can give, the better. But when it comes time to order, every detail in your sketch matters. It must be exact to ensure you receive your intended product. Remember, there may be a difference in the quoted price vs. the final bill depending on how much final measurements vary.
While it's critical for you to provide a commercial glass company with the accurate information it'll need to manufacture or fabricate your glass, it's also important the company communicates with you right up until production starts.
If it's not offered upfront, don't hesitate to ask for an additional assessment of your sketches or templates. This extra layer of review limits the chances of receiving the wrong product, which can cost your project precious time and money.

Ready to get started on your custom glass project?
Use the button below and we'll be in touch soon.