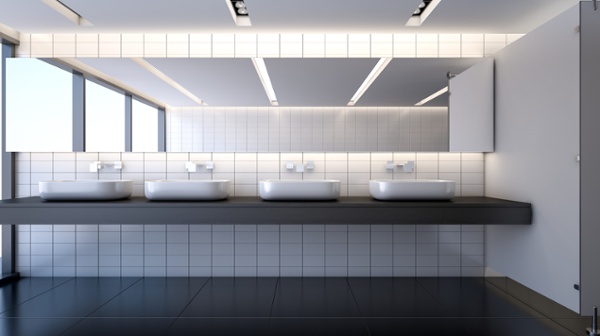 Commercial mirror isn't a one-size-fits-all product. That's why there are seemingly countless options.
As a popular material in modern design, there are two important considerations that help you get the most from your mirror: size and type.
Just like choosing the right mirror style impacts a space's aesthetics, so does a mirror's size. The same can be said for its functionality -- using the wrong type or size can mean your mirror won't meet its intended use.
Selecting the right size commercial mirror and the appropriate type can mean the difference in creating a finished product your customers will love.
Choosing the Right Mirror Size for Your Project
Integrating mirrors into a project is an easy way to add a distinct focal point to a space or serve a purpose. A mirror's size impacts its perception on both fronts.
Choosing the right-sized mirror in design is about balancing its appearance with the desired effect. For instance, placing a large mirror on the far wall of a shallow room gives the illusion of space, while smaller mirrors tactfully grouped together in a large room offer a sense of order.
When determining how big or how small a mirror you'll need, keep these tips in mind:
Large, frameless mirrors are a great choice when you want your mirror to blend in with the scenery. Because of their size, eyes are drawn to other decorative elements of a room.
Smaller mirrors make great accent pieces. Be mindful that when you hang a small mirror by itself on a large wall, it won't stand out in a good way -- it'll look out of place.
Large, clear mirrors allow for plenty of light reflection in spaces meant to be bright and open, such as bathrooms with a modern motif. They also give the illusion of more space.
Mirrors hung above furniture should not be wider than the piece itself.
A mirror's size should pair with its intended use. Bathroom and vanity mirrors aren't small for a reason, as people use them to see their reflections.



Is There an Ideal Sheet Size for Commercial Mirror Projects?
While mirror pieces can be made in almost any shape, the size of the commercial mirror glass sheets used to create them does play a role in their price.
It's generally best to design mirror projects using glass sheets that stay within industry standards. Standard mirror sizes are 72x100 and 72x120. Glass manufacturers should be able to work with very small sizes up to 96x130 or 100x144, depending on what you're looking for.
Projects using glass sheets that exceed standard sizes make it much more difficult to find a glass fabricator. Not all fabricators have the tools needed to work on a larger mirror. Those that do have the capabilities to cut your mirror to size and shape will likely charge a premium.
In addition, it costs more for other mirror fabrication elements, such as:
Applying safety backing, like a polypropylene film adhered to the back of a mirror sheet that keeps the pane intact should it break.
Installing a J-channel, a hardware accessory to hang frameless wall-mounted mirrors.
Ensuring that your commercial mirrors are made using standard-sized glass sheets helps you minimize production costs and save time.


Commercial Mirror Types and Their Applications
There are two basic categories of commercial glass mirror types: framed or frameless glass.
Both are what most people recognize as a standard mirror. As their names imply, some are framed with a distinct edge while others are not. Generally speaking, framed mirrors are standalone pieces, while frameless mirrors are part of a much bigger project, such as a full-length wall mirror. There are plenty of colors and mirror glass types within these categories to choose from, each serving different purposes.
In design, framed or frameless glass mirrors are most often found in:
Office spaces, waiting areas, and restrooms
Beauty salons
Gyms or fitness center walls
Bar and restaurant walls and backsplashes
Dressing rooms
Hotels and other hospitality spaces
Reception and event centers
Commercial doors
Mirrors are also great additions to cabinetry and display cases. In both pieces, the mirror creates a sense of depth and allows for 360° viewing of what's inside.
At New Angle Beveling, we manufacture mirror glass used for several applications and markets, including the door and cabinet industries. When ordering a custom-sized mirror, specific cutouts can be manufactured to make room for cabinets, electrical outlets, and more.


4 Popular Types of Mirrors
Several mirror styles are now popular in design, including:
Infinity Floating Mirror: Elegant polished mirror floating gracefully in a handcrafted steel frame.

Beveled glass

is available.
Channel Framed Mirror: Secure, functional, and spare; channel framed mirrors are an affordable and smart choice for any space.
Angle Frame "Snap" Framed Mirror: High-quality glass or steel mirror in a solid hand-welded frame, polished and sanded to remove miters.
Fixed Tilt Mirror: Fixed-tilt mirrors ensure total visibility for users and are mounted in a solid, polished, mounted frame.
Mirror Size and Type: Two Key Design Considerations
While every commercial mirror project is different, mirror size and type universally impact appearance and function. When integrating mirrors into your project, keeping both elements in mind helps you create pieces that meet all your customer's needs.
Need a mirror that's as unique as the space it's going in?
Browse our selection of commercial mirror products!
(Editor's note: This article was originally published in 2019 and was recently updated.)