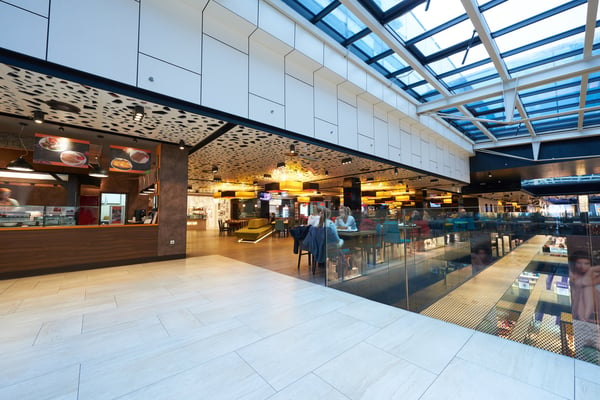 In the past, glass was mostly looked at for its utility -- a transparent barrier meant to provide separation.
Through advances in manufacturing techniques and fabrication, glass has become an integral part of both interior and exterior design. And because of improvements in its strength and functionality, glass sheets are easily tailored to meet a design vision.
With customization, even traditional applications for glass sheets become as eye-catching as they are functional.


9 Popular Commercial Uses for Custom Glass Sheets
Whether it's coated, colored, patterned, or standard, glass is a blank canvas of sorts ready to be made to fit any aesthetic and provide a unique accent.
Here are some of today's top commercial uses for custom glass sheets:
1. Windows
One of the most obvious uses, windows are prime real estate for custom glass sheets -- adding a visual enhancement to what would be a plain pane.
In place of traditional elements -- such as muntins and mullions -- designers are using custom glass sheets to make windows truly stand out, whether it's through:
Insulated glass units can be fabricated for design while offering enhanced sound dampening and protection from the elements for exterior windows.


2. Partitions
Many office environments are ditching padded dividers and boxy cubicles to create new spaces. Based on current design trends, office spaces are being redesigned with an open concept. But remodeling a space isn't always an easy task. Glass partitions and walls help achieve a feeling of openness while still providing some element of separation.
Partitions made of tempered glass provide enhanced strength and safety, while colored glass panels create a unique focal point. Textured and patterned glass offers privacy and adds to a space's overall aesthetics.


3. Storefronts
A storefront is the first impression a customer gets of any shop. With custom glass sheets, a storefront becomes a marketing tool of sorts, drawing attention or offering a glimpse inside the space.
Integrated into a storefront's architecture, custom glass sheets are used for:
Display windows
Entryways
Unique design elements
With enhanced glasses such as tempered or laminated, storefront glass improves security -- both glass types are manufactured to withstand blunt impacts and are nearly impossible to break through.


4. Doors
Doors do not have to be made from standard materials such as metal or wool. Glass doors can upgrade an entryway's visual appeal and functionality. Doors made with patterned or colored glass allow additional light into the entryway and give the visitor a much warmer welcome.
For those sticking with doors made from traditional materials, glass pieces provide the perfect accent. Custom glass patterns or beveled glass pieces add texture and highlights to elegant wooden doors. V-grooves can be cut into the glass to add a stunning decorative accent.


5. Escalators
Why should escalators be stuck in the 1950s with everyone staring into space as they move from floor to floor?
Glass panels on an escalator's sides bring the people-mover into modern times with an aesthetic of openness and clarity. Glass panels in escalators are especially effective in multi-story store or office environments.


6. Elevators
Similar to escalators, elevators have been stuck in one boring, claustrophobic boxy style.
The use of custom glass sheets allows riders to benefit from stunning views during multi-story rides, both inside and outside the building proper.


7. Shelves
Glass shelves provide a spot to showcase artwork or products without drawing attention away from what's on display.
However, additional fabrication to a glass shelf enhances the overall presentation. Edgework is a popular upgrade to glass shelving, with styles such as:
Flat
Pencil
Bullnose
Ogee
Resource: Learn edgework terminology and ordering options:
8. Shower Doors
Showers are replacing the bathtub as the focal point of many bathrooms. There are many unique patterned glasses ideal for creating the perfect shower environment -- one that complements a bathroom's design.
Considering a glass shower enclosure? Showerguard Glass, which protects a shower enclosure's glass
9. Furniture and Cabinets:
There is no end to the creativity that can be achieved using custom glass sheets. They make the perfect component for cabinets, desktops, counters, tables, and display areas. Low-iron glass is an ideal choice for glass in furniture and cabinets because of its high transparency and light transmission. Because of the wide variety available, patterned glasses are also another popular option for furniture and cabinetry.
What Will You Use Custom Glass Sheets For?
Custom glass sheets take a design vision to the next level. With a wide variety of styles and types, customized glass panes pair decorative and functional creativity for any commercial use.
To see how custom glass sheets can fit into your design, contact our experts today.