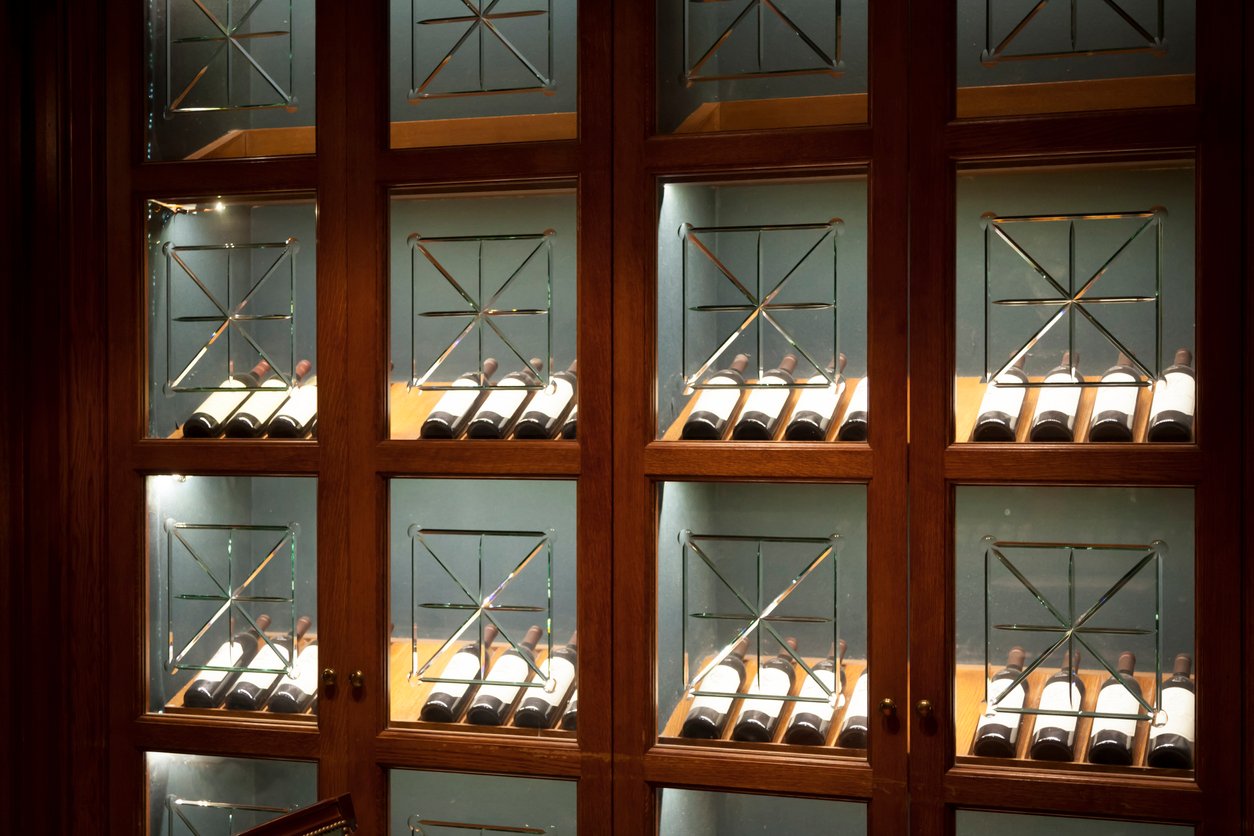 Be it a partition, window in a cabinet or door, or even mirrors, glass pieces are among the most eye-catching elements of a space.
To add a bit of artistic flair or definition to a glass pane doesn't always mean purchasing heavily fabricated or completely customized pieces.
V-grooving is one of the easiest ways to give a windowpane a unique aesthetic or the right finishing touch to a project.


What Is V-Grooving?
V-grooving glass is a method of adding a design to the surface of a glass piece.
Like routing a piece of wood, v-grooving cuts v-shaped lines into the surface of a glass pane to create detailed patterns. In a sense, v-grooving is a form of edgework. Rather than making deliberate cuts along the perimeter of a glass pane, v-grooving is applied anywhere on the pane.
In addition to permanently adding a design to the glass, v-grooving adds another layer of distinct visual elements, such as shadowing or angled edges to refract light.
The cut lines themselves also become part of the overall design. V-groove lines are typically linear or curved. They can be left with a rough finish for a textured look or polished for a clear finish.
What V-Grooving Isn't
V-grooving shouldn't be confused with etched glass designs.
While both add an artistic element to a glass piece, the difference is in how each method applies a design.
Unlike v-grooving, etching doesn't go beyond the surface of a glass piece. In most cases, etched designs are added to a window by using:
Hydrofluoric acid or gas
Bead or sand blasting
Glass-etching creams
V-grooved windows are also not the same as beveled glass windows, though they are closely related.
Both glass fabrication methods do involve cutting into a pane or sheet. However, beveling is limited to cutting an angle along the periphery of a glass piece.


V-Grooving Applications
V-groove designs are not limited to just windows. Chances are you've come across many different glass products featuring v-grooving.
This fabrication process is also often used to add permanent patterns to:
Mirrors
Glass doors
Shower enclosures
Partitions
Cabinetry and millwork


V-grooving pairs well with other fabrication techniques for custom projects, such as shaping. Explore our selection of pre-designed glass shapes or how we can cut glass to fit exactly where you need it to:
V-Groove Designs and Your Project
V-groove designs for windows are almost limitless. Popular designs are often used to:
Create a faux frame
Give the illusion of muntins, or gridwork
Add a focal point to a glass piece
Enhance residential and commercial entryways
Most glass fabricators have a small library of designs to choose from. Standard v-grooving designs are usually rooted in the shape of the glass pane to which they'll be added.
At New Angle Beveling, we have a catalog of v-groove designs and options, such as:
Arched
Rectangular ornate
Rectangular simple
Rounded
The most distinctive v-groove designs are the ones you come up with yourself.
Custom v-groove designs make a glass piece truly yours. And you'll be guaranteed no one else will have the same design.
An experienced glass fabricator will have the necessary tools to apply your concept to a glass pane. One of the most popular options for custom v-groove patterns is adding a logo to a windowpane, glass door, or mirror.
In restoration projects, custom v-groove designs help pay homage to a certain era or construction style, adding a visual enhancement that blends in seamlessly.
Pro tip: If you're providing a design to a glass shop, be sure to follow these guidelines.


V-Groove Window Designs: An Aesthetic Enhancement
V-groove designs for windows -- or any other glass product -- make a piece truly stand out without having to go to great lengths.
Regardless of pattern selection -- be it from a catalog or one you provided -- a finished product with v-grooving is certain to add a distinct and sophisticated element to a space.
Considering V-grooving For Your Project?
Download our Guide to V-grooves!