Using German Antique Glass can give a home or office a sophisticated aesthetic. Possible applications include:
Cabinets

windows of 19th-century buildings

Winter gardens

Balconies

Balustrade infill

Shower enclosures

Interior windows and doors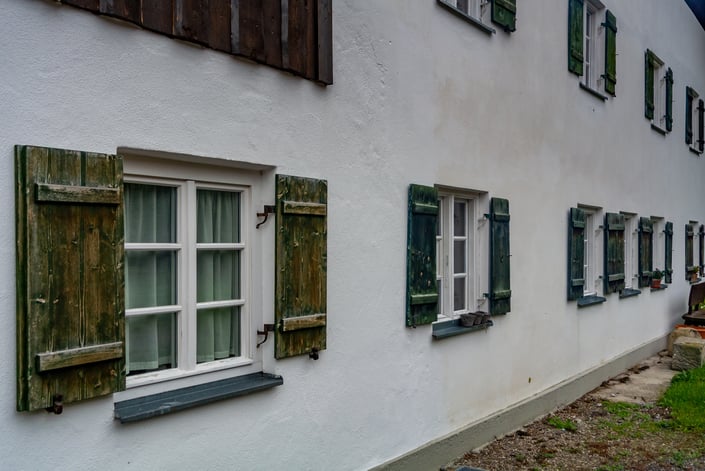 In spite of all the benefits modern glass has to offer, sometimes it can't fulfill your traditional design dreams. Or so you may think.
You might be creating a building with character, starting a renovation project, or simply fashioning cabinets and cupboards with a distinctive appearance in mind.
Modern patterned glass easily enhances your project, adding an air of sophistication and improving its aesthetics. One exceptional patterned glass option is German antique glass.
What Is German Antique Glass?
German antique glass, sometimes referred to as German new antique glass (GNA), hearkens back to turn-of-the-century German glass craftsmanship. GNA gives the appearance and subtle texture of mouth-blown antique glass.
GNA glass closely resembles true antique glass. It has a clear, slightly distorted appearance when viewed through it. It also eliminates harsh reflections.
While its production technique is fairly modern, only about 120 years old, it is perfect for historic restorations or new builds that require an elegant, yet timeless look.
How is GNA Glass Made?
Most German antique glass is made using a historically-accurate process known as the Fourcault method. Characterized by its mode of vertically forming glass, it was developed to meet the growing demand for sheet glass in the early 20th century.
From the Corning Museum of Glass:
"In 1901, Belgian glassmaker Emile Fourcault invented a machine that drew a glass sheet five stories straight up from a vat of molten glass. Now, sheet glass could be made more easily, but Fourcault's process marred its surface."
It's because of that marred, wavy, distorted surface that GNA glass closely resembles mouth-blown antique glass.
After production, German antique glass can also be fabricated to meet contemporary needs such as solar, thermal, and noise control. It can be laminated, tempered, and used in insulated glass units (IGUs). And since GNA is low in iron oxide, it doesn't have the green tint normally seen in glass manufactured in the float method.
German Antique Glass Applications
German antique glass is used in countless ways to create a classic and sophisticated look. From historic restorations to modern projects, GNA adds character and style to any design.
The beauty of German antique glass lies in its versatility; it can be used for both contemporary projects and vintage restorations alike. Its smooth texture gives it a luxurious feel that's sure to please any homeowner or designer looking for something special.
While it's great for historic renovations and creating classic looks, there are many other projects where it's a perfect choice. German new antique glass:
Gives cabinets a sophisticated aesthetic.
Is an elegant replacement for exterior windows or doors in 19th-century buildings.
Creates comfortable winter gardens, as the slight distortions of images when viewed through it softens harsh reflections from the sun.
Restores traditional allure to balconies.
Adds classic charm to balustrade infill.
Lends dramatic flare to shower enclosures.
Makes French doors feel like they're paned with antique blown glass.
When using German antique glass, there are several factors to consider before installation. The glass must be properly supported in order to avoid cracks or other damage over time due to fluctuations in temperature or humidity levels. Additionally, GNA glass should be installed by an experienced professional who understands best practices when working with this type of material.
With proper care and maintenance German antique glass can last over 100 years, adding timeless elegance and sophistication anywhere it's used.
When German Antique Glass Might Not Be Appropriate for a Project
Patterned glass selection depends on many factors.
Despite its incredible versatility and timeless appearance, there are times when German antique glass might look or feel slightly out of place. It could clash with other design or interior décor elements -- especially in projects with a modern, minimalist motif.
Aside from restoration projects, GNA is more suitable for traditional, even maximalist, styles. Maximalism draws inspiration from the Victorian era, highlighting the richness and diversity of patterns in textiles, art, and architecture – including glass.
Your architect or designer should discuss their vision with a commercial glass manufacturer so they can work as a team and select the right glass for your project.
German antique glass comes in many thicknesses and sheet sizes. For reference, at New Angle Beveling, GNA glass is available in:
Thickness:
1/8″

5/32″ *

1/4″ *

3/8″ *




Sheet size
58.5″ x 63
61″ x 94″ *
40″ x 58.5″
60"x83" *
83″ x 58.5″ *
(*Temperable options)
Not every thickness is available in every size, contact us for options and availability.
The Importance of Selecting the Right Glass for Restoration Projects
Restoration isn't about creating your own modern vision, but recreating that of another time and place. Certain historic renovation projects may also require adherence to strict design guidelines. Even though your glass may have to meet modern safety requirements, it still needs to seamlessly fit in and complement the historic nature of your building.
There are a variety of patterned glass choices that can add just the right touch.
Artique glass, for instance, can help maintain consistency when older elements are still being kept in place. Circa 1800 offers an excellent rendering of old-world restoration window glass.
And German Antique is ideal for where a unique antique glass look might be needed.
With in-depth information and high levels of communication between all parties, a skilled glass vendor can create custom, high-quality German Antique Glass pieces that meet your historic design and renovation specifications.


Is patterned glass right for your project?
Download our Pattern Glass Guide to explore your options!