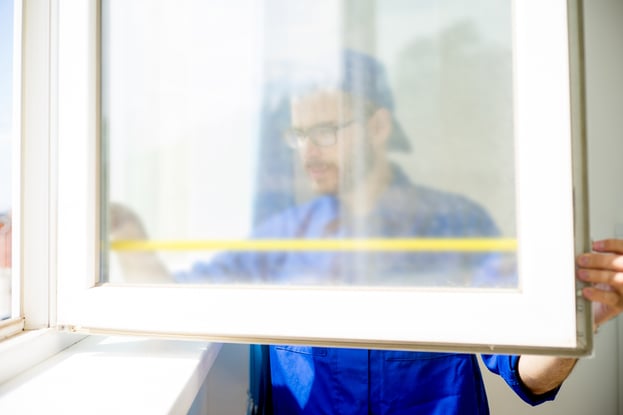 Be it a china cabinet passed down through the generations to a historic building, tackling a restoration project of any size is an exercise in commitment.
Reviving an old piece of furniture or an entire building to closely resemble its original appearance is all about attention to detail. From colors and materials to design and finishes, the choices you make in your historic restoration project matter.
With countless options, patterned glass is a material that allows you to truly pay homage to another era without sacrificing appearance or authenticity.


How Patterned Glass is Used in Restoration Projects
From a practical standpoint, patterned glass is used in two ways in restoration:
Recreating a certain aesthetic
Replacing damaged or missing elements of a piece
For instance, original, wooden window frames may be rotted out or have panes of glass missing. While impossible to salvage, custom-built frames pay homage to the past -- constructed to look exactly like their original predecessors, glass included.
On the same token, existing glass on-site may have been replaced with "new glass" -- ruining the integrity of the historical aesthetic. Just like in creating, you may be interested in swapping out that "new glass" for more antique-looking panes.
Whatever the reason for tackling a restoration, one of your first considerations is to find a decorative glass that "fits" the vision for the final product.


9 Glass Styles for Restoration Projects
The right glass choice can truly "make" a restoration project.
Depending on the style, patterned glass lends itself to:
Achieving a vintage aesthetic for the restoration of older pieces
Allowing a burst of light into a dark space
Adding soft, delicate highlights to beautify an interior
Here are 9 glass styles to consider for your historic restoration project:
Artique
1.
Artique
This patterned glass has subtle striations which wink at you from every angle. Artique has a gentle, yet arresting effect that brings understated bursts of quiet color to any room.
Artique is available in a thickness of 3.0 mm with panes measuring 26" × 72". It is not temperable.


Instead of a complete Seedy pane, Clear Seedy contains a spectrum of light that adds a unique focal point. This is a random pattern, so each piece is a distinctive work of art.
This pattern is available in 1/8″ thickness with panes measuring 72" × 48". It is not suitable for applications where tempered glass is required.


English Reeded features clearer panels with reeded patterns that run the length of the glass (either vertical or horizontal). This textured glass adds a dramatic dash to cabinets, glass walls, or doors.
Available in 5/32″ and 1/4″ thicknesses, with panes measuring 84" × 60" and 100" × 60" respectively. Reeds that are 1/2″ wide.


This rolled pattern glass contains delicate, small flower-like shapes on one surface of the glass. Floralite brings an aura of the outdoors inside and adds a sense of soothing serenity to any room.
Available in a 5/32″ thickness, with panes measuring 84" × 60". It is temperable.


Add an air of sophistication to a space with this exceptional option. German Antique glass is clear with very slight, if any, distortion of any image which is viewed through it. However, this versatile glass has a considerable sense of character derived from the irregularities within and upon the surface of the glass.
Available in 1/8", 5/32", and 1/4" thicknesses, with pane measuring 59 1/8" × 40", 83" × 52 1/2", and 95" × 61", respectively. The 1/8" thickness is not temperable.

The Glue Chip (Single Chip) is a glass that has a frost-like design and texture. This pattern is also random, so no 2 pieces look the same, leaving room for supreme decorating flexibility.
Available in a 1/8″ thickness that is temperable with panes measuring 84" × 60". Other thicknesses are available upon special request.



7.
Reamy
or Altdeutsch
A rich pattern glass, Reamy has beautiful ripples and wave-like features with the occasional seed for a bold, attention-catching highlight piece.
Available in 5/32″ thickness that is temperable with panes measuring 85" × 65".


The Seedy variety is less transparent than the Clear Seedy glass. It contains more seeds and has a more obscured look, to enhance privacy and security.
Available in 1/8″ thickness that is not temperable with panes measuring 32" × 64".


This glass is supplied by Hollander Historic and can be ordered upon request.
Circa 1800 is temperable and can be turned into an IGU upon request. It can be used in both window and door applications.

Available in 1/8" thickness with panes measuring 30" × 70".


Fabrication Enhances Your Restoration Project
Customizing your patterned glass makes your project unique. In restoration projects, custom designs help pay homage to a certain era or construction style by adding a visual enhancement that blends in seamlessly. Fabrication includes:
Edgework/Beveling: With a variety of styles to choose from, edgework and beveling add a unique finishing touch to glass products.
V-grooving: Like chiseling a piece of wood, v-grooving adds intricate designs to glass surfaces.
Tempering: A process that makes glass sheets 4-5x stronger, tempering improves the safety and durability of glass pieces.
Shaped Glass: As no two projects are the same, we can cut glass into almost any shape to meet your specific needs.
Take a deeper dive into what New Angle Beveling can do for your commercial glass project. Download our Services & Capabilities Guide:
In Restoration, Glass Choice Matters
No one takes on a historic building restoration project hoping to miss the mark. Restoration is as it sounds: bringing something back. Those viewing the finished piece, be it an old building's windows or the decorative sidelights of a door, will notice if something seems "off."
That's why selecting the right glass for historical restoration is critical to a project's overall success and reception.
Choose the right patterned glass for your restoration project
Download our Patterned Glass Comparison Sheet to review our patterned glass stock: