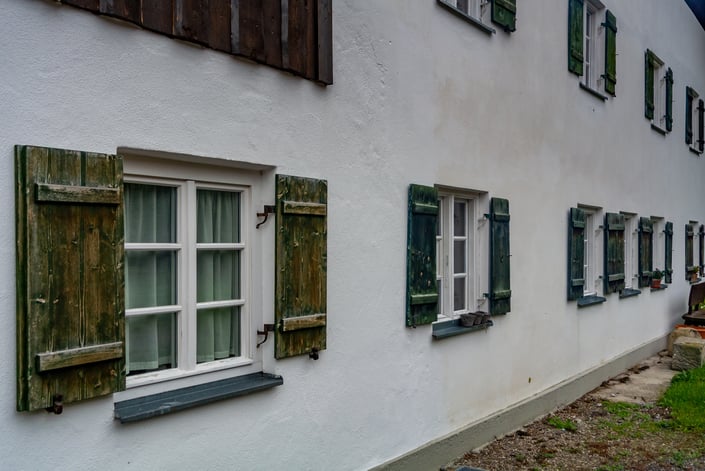 There are times when traditional glass can't fulfill your design dreams. You might be creating a building with character, starting a renovation project, or simply fashioning cabinets and cupboards with a distinctive appearance.
Patterned glass easily enhances your project, adding an air of sophistication and improving its aesthetics.
One exceptional option is German Antique Glass.
What Is German Antique Glass?
Harkening back to turn-of-the-century German glass craftsmanship, German Antique Glass gives the appearance and texture of mouth-blown antique glass. German Antique Glass pieces are clear with slight distortions when images are viewed through them.
While completely modern in its production, this lends itself to a historical appearance for renovations and imaginative new builds. A glass that's elegant, it also eliminates harsh reflections.
German Antique Glass Applications
While German Antique Glass is great for historic renovations or creating classic looks, there are many other projects where it's a perfect choice.
Using German Antique Glass for cabinets, for example, can give a home or office a sophisticated aesthetic. Other possible applications include:
Replacing or renovating windows of 19th-century buildings
Creating comfortable winter gardens
Balconies
Balustrade infill
Shower enclosures
Interior windows and doors
German Antique Glass can also be fabricated to meet contemporary needs such as solar, thermal, and noise control.
This glass type comes in many thicknesses and sheet sizes. For reference, at New Angle Beveling, German Antique Glass is available in:
Thickness:
1/8″
5/32″ *
1/4″ *
3/8″ *
Sheet size
58.5″ x 63
61″ x 94″ *
40″ x 58.5″
60"x83" *
83″ x 58.5″ *
(*Temperable options)
Not every thickness is available in every size, contact us for options and availability.
When German Antique Glass Might Not Be Appropriate for a Project
Patterned glass selection depends on many factors.
Despite its incredible versatility and timeless appearance, there are times when German Antique Glass might look or feel slightly out of place. It could clash with other design or interior décor elements -- especially in projects with a modern motif.
Your architect or designer should discuss their vision with a commercial glass manufacturer so they can work as a team and select the right glass for your project.
The Importance of Selecting the Right Glass for Restoration Projects
Restoration isn't about creating your own modern vision, but recreating that of another time and place. Certain historic renovation projects may also require adherence to strict design guidelines. Even though your glass may have to meet modern safety requirements, it still needs to seamlessly fit in and complement the historic nature of your building.
There are a variety of patterned glass choices that can add just the right touch.
Artique glass, for instance, can help maintain consistency when older elements are still being kept in place. Circa 1800 offers an excellent rendering of old-world restoration window glass.
And German Antique is ideal for where a unique antique glass look might be needed.
With in-depth information and high levels of communication between all parties, a skilled glass vendor can create custom, high-quality German Antique Glass pieces that meet your historic design and renovation specifications.


Is patterned glass right for your project?
Download our Pattern Glass Guide to explore your options!