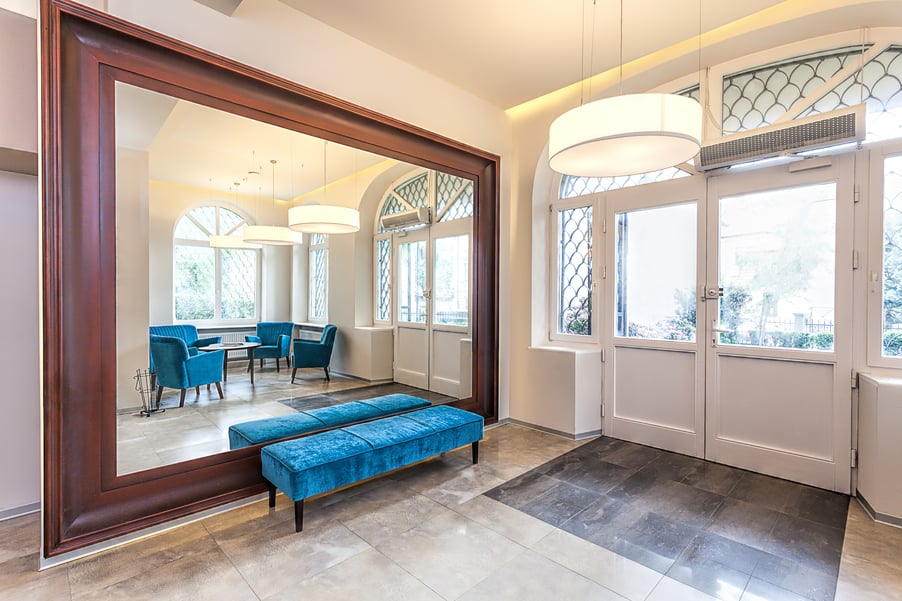 The right commercial mirror can bring style and function to a wall space.
But not all mirrors are right for every application. Dressing rooms and dance studios use mirrors for different reasons.
Whether your project needs a mirror as part of a modern office renovation or for dancers to check their form, mirrors are a crucial part of a commercial project.


8 Places Commercial Mirrors Make a Statement
There are various types of mirrors that will meet any of your customer's needs. Eight wall spaces that benefit from commercial mirrors include:
Dance studios
Gyms/fitness centers
Bathrooms
Office spaces and waiting areas
Beauty salons
Bar and restaurant walls and backsplashes
Dressing rooms, bridal shops, and boutiques
Hotels and hospitality spaces

1. Dance Studios
Full wall mirrors in dance studios are essential for dancers as they strive to perfect their form or learn choreography.
Suggested dance studio mirror choices:

2. Gyms or fitness centers
Bad form can be dangerous when exercising. Commercial full-length mirrors help prevent injury by allowing people to watch their technique.
Suggested gym wall mirror choices:
3. Bathrooms
Commercial bathroom mirrors create a more aesthetically appealing environment by reflecting light and images.
Suggested commercial restroom mirror choices:




4. Office spaces and waiting areas
Commercial wall mirrors are a perfect accent for office spaces and waiting areas. Mirrors enhance the look of these spaces and provide functionality and style.
Suggested office mirror choices:
5. Beauty salons
Mirrors allow salon customers to watch their hair be styled. Utilizing clear mirror is the best way to ensure color accuracy for dye and highlight work as well.
Suggested salon mirror choices:
6. Bar and restaurant walls and backsplashes
A full wall mirror design can reflect the style of a bar or restaurant, from casual to elegant. It can also create the illusion of a larger footprint, making the patron feel less cramped in narrow spaces.
Suggested mirrors for bars and restaurants:

7. Dressing rooms, bridal shops, and boutiques
Commercial wall mirrors are crucial for making sure that new pair of jeans or a wedding dress fit is perfect.
Suggested dressing mirror choices:


8. Hotels and other hospitality spaces
Looking to leave your guests with a lasting impression? Commercial wall mirrors create more brightness in rooms. A well-placed room makes larger areas feel cleaner and can accentuate room features.
Suggested hotel mirror choices:


Commercial Wall Mirrors for Security
Privacy and security should be discreet. A one-way security mirror makes this possible without sacrificing style. Mirropane™ by Pilkington provides clear and undetected viewing into the room without being seen.
Ideally suited for any area that needs observation or monitoring, Mirropane™ is ideal for:
Retail stores
Supermarkets
Airport security
Banks or cash offices
Medical facilities
Computer rooms
Child care facilities
Marketing focus group rooms
Police stations
Choosing the right commercial mirror isn't always simple. Our guide can help:

Commercial Wall Mirror Size Matters
Mirror size is important to both design and functionality. A small mirror on a dance studio wall looks out of place and doesn't meet the dancers' needs. Conversely, a smaller accent mirror on a small lobby wall may be more aesthetically pleasing than a large mirror.
There are times when mirrors play with the perception of openness. A large mirror on the far wall of a shallow room gives the illusion of space, while smaller mirrors tactfully grouped in a large room offer a sense of order.
When thinking of how to pick the right size wall mirror consider its intended purpose. Are you looking for it to:
Blend in?
Stand out?
Enhance lighting?
Serve a function?


The Versatility of Commercial Wall Mirrors
Commercial mirrors help set wall space apart while providing function. With a variety of colors and types, commercial wall mirrors can be used to add flair to a space, create a sense of openness, and even improve security.


Looking for the Perfect Mirror?
Need a mirror that's as unique as the space it's going in? Browse our selection of commercial mirror products! Learn more about mirror glass options:
(Editor's note: This article was originally published in November 2021 and was recently updated).