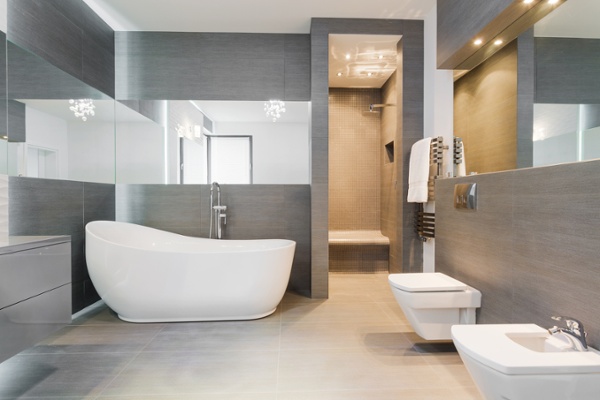 In creating a certain look and feel for a space, using the right commercial mirror types can be the perfect complement to any design.
Through modern manufacturing techniques, commercial mirror is now more than just silver-backed panes of glass to see reflections in. With a plethora of colors, styles, and types to choose from, commercial mirror is easily integrated into most design schemes. It can serve as either a statement-making focal point or a subtle aesthetic enhancement that doesn't sacrifice intended use.
With the right commercial mirror types, you won't need to choose between design and function -- both considerations are brought together.


5 Commercial Mirror Types That Blend Aesthetics and Utility
A versatile design element, commercial mirror adds the right finishing touch to a project with its combination of form and function.
Popular commercial mirror types include:
Colored mirror glass
Low-iron mirror
Copper-free mirror
Antique-style mirror
Two-way mirror


1. Colored Mirror
Whether it's creating depth, adding brightness, or just making a space look more distinct, colored mirror glass is an eye-catching option for enhancing a project's aesthetics. Adding colored mirror to a space is also an easy way to forgo traditional design embellishments, such as bold paint color or other decorative elements.
Unique colored mirror glass options include:
You'll find colored mirror glass mostly in indoor spaces, such as:
Hotels
Bars and restaurants
Reception halls


2. Low-Iron Mirror
In some projects, clarity is key.
Made with low-iron glass -- one of the clearest types of commercial glass -- low-iron mirror boasts supreme clarity and a colorless appearance. With no visual obstructions or filtering colors, reflected light shines more brilliantly, allowing for a true representation.
Low-iron glass mirror, such as Starphire Ultra-Clear™, is optimal for:
Bathrooms
Display cases
Studios
Bars and restaurants
Bridal shops and boutiques


3. Copper-Free Mirror
Copper-free mirror is made to last.
Manufactured with specialized silver paint and several protective coatings, copper-free mirror doesn't fall victim to common issues seen in traditional mirror. With the additional layers of protection, the mirror's reflective surface does not easily succumb to humidity, which causes its reflective paint to corrode or peel. For as long as the mirror is used, its reflectivity maintains its integrity.
Copper-Free Mirror is best suited for:
Bathrooms
Gyms and athletic facilities
Wardrobes and dressers
Display cases


4. Antique Mirror
Ideal for restoration projects, antique-style mirror achieves a vintage look without having to actually purchase old mirror glass.
Like other commercial mirror types, there are plenty of antique-style mirror options to choose from. You'll have no problem finding a product that helps you achieve accuracy or pay homage to an historic era in your project. Being a specialty glass, antique-style mirror does have some size and shaping limitations. It's important to talk with your glass fabricator about the intent of your project with this material, as there are some considerations in working with it.

5. Two-Way Mirror
When mirror needs to serve the dual purposes of bringing form and enhanced security to a space, two-way mirrors, such as Mirropane, check both boxes.
Similar to a window, viewers on the backside of the mirror have an unobstructed -- and undetectable -- view of a room. On the other side, Mirropane appears as just a normal mirror.
In design, a two-way mirror blends in seamlessly into a room's decor. For security, those monitoring a space are able to do so without being noticed.
Two-way mirrors are ideal for a variety of spaces, including:
Retail stores
Supermarkets
Banks or cash offices
Child care facilities
Hotel lobbies
Fabrication Considerations When Ordering Commercial Mirror
Regardless of the type of commercial mirror used for your project, there are a few considerations when ordering it from a commercial glass company.
There's nothing worse than receiving a mirror pane that isn't what you wanted -- whether it doesn't fit where it's supposed to or the holes and cutouts aren't right. Not only does reordering waste time, but it also costs money.
When working with a commercial glass company, it's critical to share the details about your project. With an understanding of intended use, hardware requirements, or shaping needs, your manufacturer is able to create finished pieces that meet your project's needs.
It's also important to pay attention to local building codes.
In some municipalities, there are stringent rules for installing mirrors in public spaces or commercial locations. One of the most common regulations in fabricating mirrors is that they require safety backings. A polypropylene film is applied to the back of a mirror sheet, safety backing keeps a mirror intact should it break. In other words, it prevents dangerous glass shards from falling out of a broken mirror.
Safety backing is often required for mirrors in:
Wardrobe or closet doors
Fitness rooms and gyms
Dressing rooms
Bars and restaurants


Choosing the Right Commercial Mirror Types for Your Project
How do you know which mirror type is right for your purposes? That starts with intent and placement.
Unless deliberate by design, mirrors shouldn't seem out of place. Commercial mirrors should appear as a natural addition to a project.
A few considerations to keep in mind:
In spaces meant to be bright, certain colored mirrors -- such as black or grey -- may not be a good choice. However, those same mirrors are better suited to create a deep, luxurious aesthetic for a room.
Antique mirror doesn't have universal application. It might look out of place in a modern design scheme, though it can add distinct contrast if used correctly.
Just as color and style play a big role in how well a mirror complements a space, so too does its shape.
Additional enhancements to commercial mirrors include beveling, v-grooving, and edgework.
Just like with fabrication, a commercial glass company is able to offer expertise on mirror glass selection for your project.


Elevating Your Project With Commercial Mirror
Whether it's to stand out or quietly boost aesthetics, integrating commercial mirror into your project helps you create a finished product that meets your design vision without sacrificing practicality. With its combination of form and function and plenty of options, commercial mirror is an investment in creativity and utility.


Commercial Mirror for Your Project
Mirror has a long life. Learn what it takes to properly care for your mirrors from the day you receive them to long after they're installed:
(Editor's note: this blog post was originally published in January 2021 and was recently updated.)