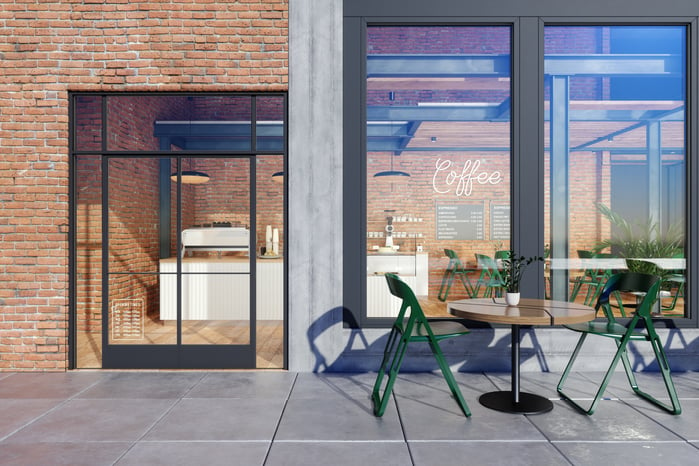 Think of a commercial storefront as a billboard of sorts. What does it say about a company? Does it capture the attention of customers? Does it speak to the creativity or professionalism of a company?
Commercial storefront glass doesn't have to be boring but choosing glass for aesthetic appeal shouldn't mean sacrificing function. Amazing clarity, a splash of color, or eye-catching edgework can make storefronts stand out.

When choosing glass for a commercial storefront, there's no need to choose between performance and style.



4 Types of Commercial Storefront Glass
A functional part of a facade, a storefront's glass should stand up to the job. Four commercial glass types for storefronts that go above and beyond traditional glass include:
Low-iron glass
Tempered glass
Laminated glass
Coated glass

1. Low-iron Glass
Looking for absolute clarity? Low-iron glass provides unmatched transparency. It's made to optimize light transmission and provide the clearest possible view.
Low-iron glass is made with materials containing a minimal amount of ferric oxide. With trace amounts of iron, this glass allows for maximum brightness up to 8% higher than traditional glass.
Low-iron glass sheets maintain clarity no matter how thick they are. While regular clear glass tends to display a green/blue hue along the edges in thicker pieces, low-iron glass sheets are essentially color-neutral, only picking up colors of the materials around them along their edges
If you want customers to perfectly see displays or the layout of the store from the outside, low-iron glass is a clear choice for storefront glass windows.


2. Tempered Glass
Looking for strength? Tempered glass delivers when security and safety are a concern. It's considered to be 4 to 5x stronger than standard glass, providing more security for glass windows.
Because of its strength, tempered glass is less dangerous than standard glass. In the event tempered glass breaks, it shatters into small, pebble-like pieces, rather than breaking into glass shards. These pieces can still cause harm but the risk of deep cuts and other serious injuries is limited.
Tempered glass can also be styled with beveling, polishing, and v-grooving and can be cut into many shapes, sizes, and patterns -- fabrication elements that must be completed before the tempering process.
Tempered glass works well in:
Curtain walls
Windows
Doors


3. Laminated Glass
Looking for durability? Designed to withstand blunt impacts while remaining intact, laminated glass provides a clear and almost impenetrable barrier from the unexpected.
Laminated glass is manufactured by bonding two glass plies to a clear interlayer, usually vinyl.
This middle layer helps laminated glass to better absorb shock when struck with heavy blows, making it ideal as security glass. When broken, the majority of broken glass within the pane stays intact, significantly reducing injury from glass shards.
The durability of laminated glass slows or stops deliberate acts of vandalism or forced entry. It also limits broken glass caused by flying debris and is often required in communities that routinely experience intense weather events, such as hurricanes.
Materials used for a laminated glass piece's interlayer can improve a unit's performance, with:
UV ray protection
Sound dampening
Improved energy efficiency
Bullet resistance
Improved protection against property vandalism or break-ins



4. Coated Glass
Looking for versatility? Coated glass meets a variety of applications. Coated glass is made by adding a thin layer to a sheet's surface during manufacturing. These coatings are mostly invisible, though some are intentionally tinted.
Coatings are applied in two ways:
Soft coats -- the coating is sprayed to a pre-cut glass sheet inside a vacuum chamber and left to harden through a process called sputter coating.
Hard coats -- the coating is applied as a chemical vapor to a glass sheet that's heated to a high temperature. The vapor condenses and bonds to its surface as the glass cools.
Consider coated glass for:
Light reduction
UV ray protection
Energy efficiency
Reflectivity
Durability against the elements
Enhanced strength
Scratch resistance


Customize Your Storefront with Style
Creativity can set a commercial storefront apart. Storefronts can be customized with:
Colored glass
Patterned glass
Fabrication


Colored Glass
Adding a splash of color makes your commercial storefront glass stand out. Consider using colors that fit a company's style or any color from the full spectrum.
Colored glass also adds energy efficiency by dampening the sun's rays. It enhances privacy and security by providing visual obstruction.


Patterned Glass
Looking for historic glass to match a historical theme or a little texture to add elegance to your commercial glass windows? Patterned glass makes your project stand out.


Fabrication
Modern glass fabrication allows for other visual enhancements to glass. Techniques include:
Commercial Storefront Glass Worth Looking Through
Safety and style combine to create eye-catching commercial storefronts. The right glass will elevate your commercial project.


Ready to Get Creative With Your Storefront Project?
Looking for a glass company to partner with for your next commercial glass project? Download our guide to help you think through selecting a good manufacturer.
(Editor's note: This article was originally published in October 2021 and was recently updated).