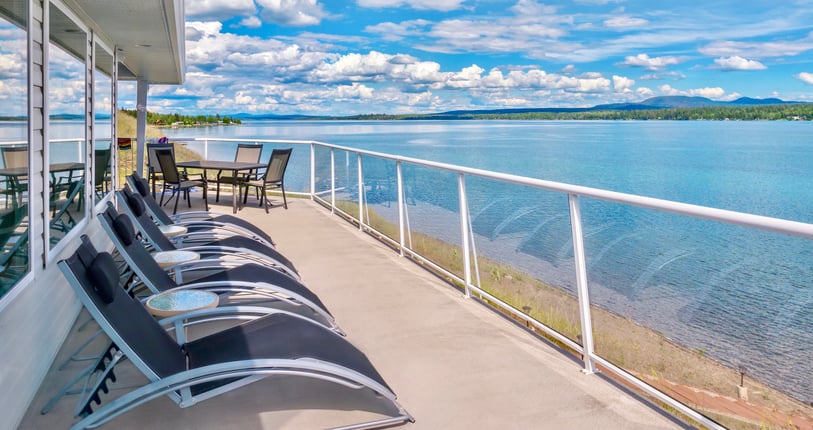 Nothing beats a view.
Whether it's from the deck of a lakehouse, a roof downtown, or an interior stairway, having a clear survey of your surroundings can elicit feelings of power and safety.
There's also a bit of a thrill factor that comes with taking in sights from on high – is it safe? Or will you pay a steep price for that great view?
Here's where a glass railing captures everyone's attention: Done correctly, they blend effortlessly into their environments, allowing for stunning views. At the same time, they're a superior alternative to traditional metal and wood railing systems.
Glass Railings | Design Advantages
Choosing to add a glass railing, whether for an exterior application or interior, is a bold decision that can really pay off. Commercial glass railings take a design above and beyond the ordinary, as they:
Enhance aesthetic appeal
Maximize natural light
Create the illusion of space
Require minimal maintenance
Are Glass Railings Safe?
Glass stair railings offer high levels of safety and security without compromising on quality, design, or aesthetics. Consider:
No gaps between panels – Glass railing is typically designed with few-to-no openings to create a full, safe barrier.
Glass doesn't decay – Unlike wood, metal, polycarbonate, and vinyl, glass doesn't deteriorate over time. The fixtures holding the glass in place will need maintenance long before the glass itself.
Safety glass is strong – Most

building codes

require glass railings to be

laminated

and either heat-strengthened or

tempered glass

. The codes are developed with the following in mind:

Will the glass break safely?
Will it resist breaking entirely?
Will it stay in its assembly and not fall?
Fully-tempered, non-laminated glass should only be used in areas where walkways either don't exist below the installation area, or they are protected from potential falling glass.
With the right type of glass, glass railings are an extremely safe design option for both commercial and residential applications.
Which Glass Is Best for Railing?
Since glass railings are most often chosen for the views they allow, their style points are usually won by how well you don't see them.
While a number of glass options are available to meet the tempered and laminated glass requirements, the clearest choice is low-iron glass.
It's made using silica sand, which contains less iron (ferric oxide) than other sands used to create traditional glass. During the glass-making process, ferric oxide causes the greenish tint we normally see in glass. Essentially, the purer the sand, the clearer the glass.
That additional clarity allows for brightness up to 8% higher than traditional glass. If you're trying to make a statement with glass railing, using low-iron glass is your best bet.
New Angle Beveling proudly distributes Pilkington Optiwhite™, made using carefully selected raw materials with a naturally low iron content in a tightly controlled melting process.
How Much Do Glass Railings Cost?
Here's another way glass railing stands high above the competition – it's pricey.
Depending on the application and framing system, you'll pay anywhere from $250-475 per linear foot.
For instance, you'll see a difference in price between a frameless glass railing for a deck as opposed to an interior glass staircase railing with wooden posts.
However, that high price is an investment in durability, safety, and longevity.
Where You'll See Glass Railings
Glass is an elite material choice that's used anywhere you want to upscale more humble materials used for railings:
Balconies
Decks
Pools
Stairs
Lofts
Getting the Look: You Need Accurate Fabrication
With great (aesthetic) power comes great responsibility. Fabricating custom glass railing and balustrade pieces requires a high degree of accuracy and attention to detail.
In the case of frameless systems, their exposed panel edges need to be exactly the right size to line up seamlessly with each other.
All the attachment holes also need to be precise – any slippage or misalignment will throw off the entire design.
When you're looking for a vendor, experience and precision make all the difference. An expert glass fabricator will deliver you panels with:
Flush edges
Clean holes
Accurate attachment points
Fabricating panels to your exact measurements may take more time up-front – but having pieces that are right the first time will make your installation easier and quicker.
How to Order Glass for Railings
When you're ordering custom railings from a commercial glass fabricator, good communication is key.
With full, detailed information, a skilled glass vendor using state-of-the-art machinery can create custom, high-quality pieces to your specifications and on time.
For the best results, tell your commercial glass manufacturer everything up-front, even down to details such as:
Application
Fabrication requirements
Specifications
Tolerances
Budget
Deadline
Your Glass Railing Project
Glass railings offer many advantages to both interior and exterior design.
From their beautiful aesthetic appeal to their ability to maximize natural light, they're a great choice for customers attuned to bold, yet practical, design.
Not only do they create an open view full of light, but they also require minimal maintenance while ensuring safety.
More on Working with a Glass Fabricator
Need a guide for your glass projects, whether they involve installing commercial glass railing, restoring historical buildings, or creating stunning storefronts and office walls? To learn more, get a copy of our guide to commercial glass purchasing: