Six locations ideal for commercial glass include:
Hotels
Restaurants
Offices
Customer reception areas
Commercial entryways
Bathrooms
The business center at an upscale hotel you're staying at. The walls of your favorite restaurant. Even your shower.
What do these spaces have in common? They're all prime real estate for commercial glass.
While common enough to go unnoticed -- there's rarely a building that doesn't have glass somewhere -- glass pieces can go the extra distance to add functionality or enhance the design of a space.
From making the best first impression to keeping people safe, we've compiled a list of places where commercial glass is a great fit.


6 Places Ideal for Commercial Glass
As a material that meets a wide variety of uses, glass is well suited for many places. Six locations ideal for commercial glass include:
Hotels
Restaurants
Offices
Customer reception areas
Commercial entryways
Bathrooms


1. Hotels
In the hospitality industry, a first impression is everything. Commercial glass sets an aesthetic throughout an entire hotel.
Ultra-clear glass products -- such as low-iron glass -- convey modernity and cleanliness, from the lobby to a guestroom's bathroom. Patterned and colored glasses set the stage for luxury or distinction. Colored mirrors are another great option to enhance a hotel's design while adding additional functionality.
With additional glass services and fabrication, glass pieces add a unique focal point to a room. Fabrication techniques to ask your commercial glass company about include:
2. Restaurants
Another member of the hospitality industry, restaurants can enjoy the same benefits of commercial glass as a hotel.
Commercial glass products are particularly helpful for creating an atmosphere. Colored glass panes and mirrors enhance your restaurant's aesthetics, whether you're creating an ambiance for a dapper brewpub or a bright and spacious family-style eatery. Behind a bar, colored glass and mirror offer the same eye-catching improvements, helping to set your space apart.


3. Offices
Long gone are the days of offices being sterile environments with identical rows of desks. Design trends now favor open-concept floor plans and vibrant workspaces. Commercial glass is the perfect complement to any modern office design.
In corporate workplaces, glass office walls are an economical option to renovate a space for both privacy and literal transparency. Finished with V-grooving, those same clear dividers feature unique designs -- even those you create.
Commercial glass also protects the health and safety of employees. Portable glass partitions and sneeze guards provide that extra layer of separation between co-workers to prevent the spread of airborne diseases.


4. Customer Reception Areas
Whether it's for safety or security, commercial glass can act as a barrier between customers and staff members.
Both tempered and laminated glass products were made to do just that. In addition to creating separation between people, both glasses provide enhanced safety -- they're among the strongest glasses on the market and are very difficult to break.
The glass that provides separation between employees and customers doesn't have to be actual glass. Polycarbonate and acrylic sheets are suitable glass alternatives. Both thermoplastics are strong and durable and boast the same transparency as traditional glass. What's more, to the untrained eye, the difference between polycarbonate and acrylic sheets compared to standard glass is negligible -- it's very difficult to tell the materials apart.


5. Commercial Entryways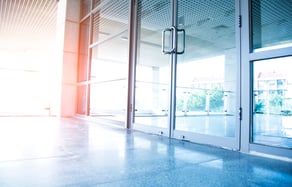 Just like glass used in customer reception areas, tempered and laminated glasses are ideal for entryways. Not only do both commercial glasses stand up to the heaviest of direct blows, but they're also a lesser threat to public safety if they break.
Heated to temperatures in excess of 1000℉ and then quickly cooled, a tempered glass pane's surface is compressed while its center is under tension. These opposing forces make a piece resist bending and breaking. When broken, tempered glass shatters into small, pebble-like pieces that are easier to sweep up than jagged shards of all sizes.
Learn more about the tempering process:
Laminated glass isn't just one pane of glass -- it's actually at least two. Manufactured by sandwiching a clear, vinyl layer between glass plies, pieces of laminated glass stay intact when broken -- shards won't go flying when a pane is dealt a damaging blow.
Both safety glasses can be cut and shaped to the specific dimensions of their installation space.


6. Bathrooms
On the residential glass side, bathrooms are full of possibilities. The two most common glass applications? Mirrors and custom shower enclosures.
For those looking to take their mirrors to the next level, copper-free and low-iron glass mirrors are top contenders.
Copper-free mirrors are manufactured to withstand the test of time -- even in humid environments, such as a bathroom after a long, hot shower. During manufacturing, panes of glass are coated with a specialized silvering paint before a protective layer is applied. Copper is not used to prime a glass pane's surface. The mirror's reflective backing is then sealed, increasing its resistance to corrosion and peeling. (We can only provide copper-free mirror for large-quantity projects).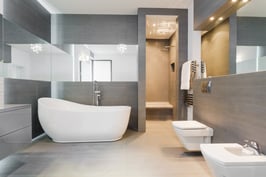 Mirrors made with low-iron glass provide unobstructed clarity. Made with materials containing trace amounts of iron, low-iron glass is colorless. It's also among the most transparent glasses available. When used to make a mirror, low-iron glass lets a reflected image shine back unobstructed.
For custom shower enclosures, low-iron and tempered glasses are the first choices.
Because of its colorless appearance and enhanced light transmission, low-iron glass creates a nearly invisible barrier for showers. Depending on an enclosure's construction, you may notice the edges of low-iron glass pick up on the colors of the materials around it, such as tile or walls.
Of the safety glasses, tempered glass is preferable for interior applications, primarily because of its superior strength and how it breaks. On the off chance that a tempered glass shower enclosure is dealt a blow it can't withstand, there won't be sharp, jagged pieces of glass strewn about a bathroom.
Commercial Glass for Your Project
Commercial glass is a material that offers true versatility -- if you've got a project, there's a glass type that's a good option.
The best part about integrating glass into a space, be it an office space or your bathroom, is that the right material serves multiple purposes and maximizes your investment. A commercial glass company can help you choose the best glass for your money without sacrificing function or intended effect.
We're ready to discuss your project and find the perfect glass for it.
Contact us -- let's set up a time to talk!
Six locations ideal for commercial glass include:
Hotels
Restaurants
Offices
Customer reception areas
Commercial entryways
Bathrooms