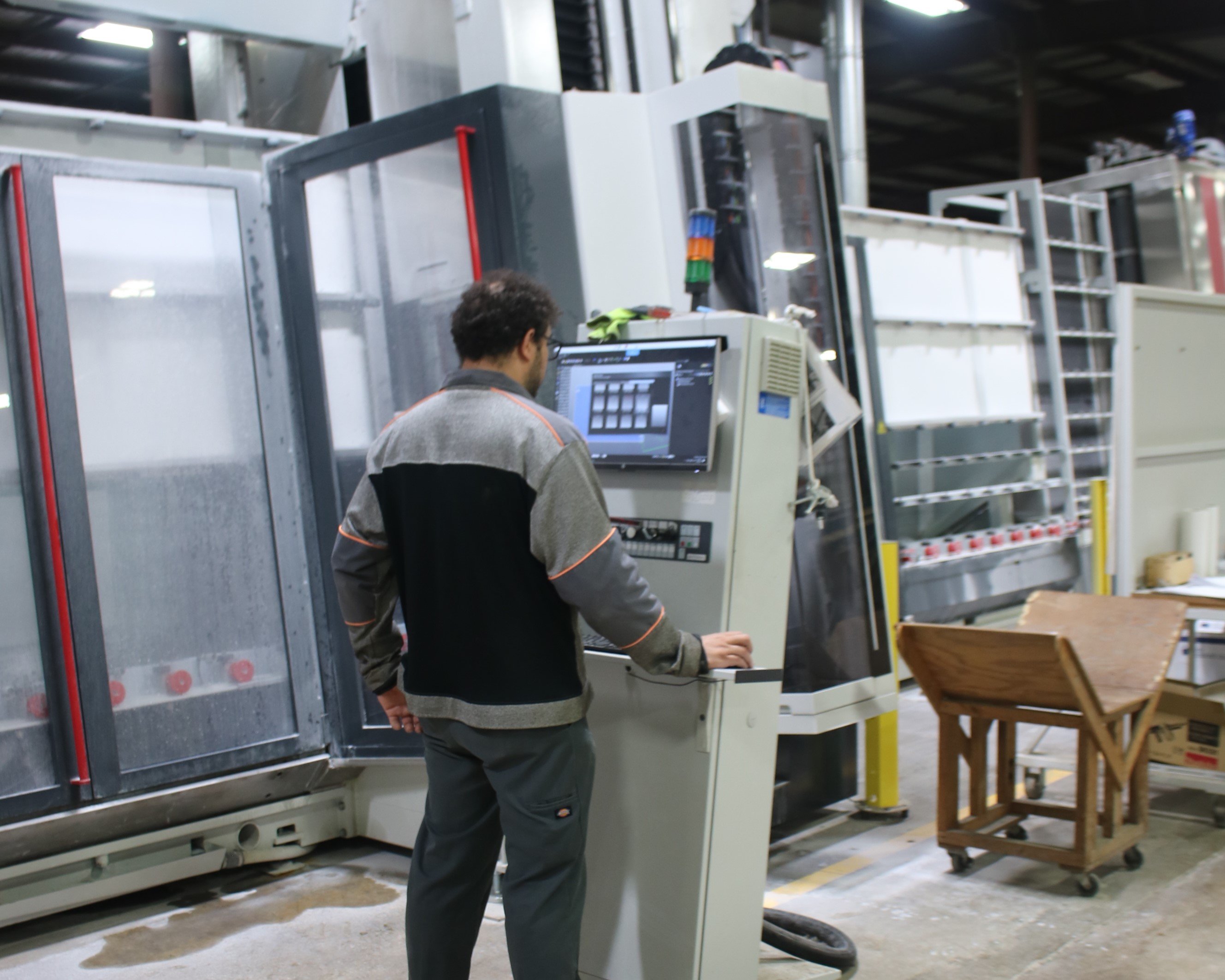 Are you good at:
Paying attention to details
Hand-eye coordination
Basic math
Seeing the bigger picture
And do you have:
CAD drawing experience
Machining experience or
Training through schooling
Congratulations, you could make an excellent CAD machine operator!
What Does a CAD Machine Operator Do?
Machine operators in glass manufacturing are responsible for using computer-aided design (CAD) to cut glass to specific measurements.
As a CAD machine operator at NAB, you'll be responsible for operating semi-manual CNC machines that cut glass to specific sizes and shapes.
This means that you have to be able to:
Set up the machine – using a computer, you have to tell the CNC what cuts it will make (a lot of these are pre-programmed for you)
Place supports – the computer tells the operator where supports need to be placed before loading the glass on the cutting station
Load glass
Make sure the CNC is equipped with the correct tool for the job
Run the cuts
Watch the machine to make sure it's working properly
Inspect the finished piece to make sure it's cut correctly
Unload the machine
Repeat with next job
See the Intermac Vertmax machine features (this same type of machine is in our shop):
What does CNC stand for? Computer Numerical Control
CNC Machines use cutting and drilling tools hooked up to a computer with a pre-loaded design to remove pieces from a material to create a desired part.
What Are the Requirements?
New Angle Beveling is known for our high standards, attention to detail, and quality products. CAD operators play a big role in making sure our products meet all our standards before they're shipped to customers.
We prefer candidates with backgrounds in glass manufacturing, but we are willing to train the right person. Our CAD machine operators need:
An Associate's degree or completion of a technical program in a related field
The ability to add, subtract, multiply, and divide
To be able to read a tape measure, compass, and square
To be able to enter data into a computer
To follow detailed written and spoken instructions
Strong communication skills
Real world experience
Computer skills
Along with those skills above, CAD operators need to be able to see the bigger picture. That means they need to be able to look at drawings, see the job at hand and know how to make the CNC do the work.
They also need to see that each piece of glass that gets worked on is a reflection of the company. Even though it's a repetitive job, every single piece of glass is important. We all take great pride in our work and attention to detail.
Why Becoming a CAD Operator Is a Good Idea
This is an entry-level job and a great way to get your foot in the glass business door.
Whether you start with zero experience or only some experience, learning about automation, how to read CAD drawings, and how to operate CNC machines are essential skills in almost every manufacturing business now.
With these skills, you can stay and learn and grow in the glass industry, or you can pick up and get into another industry that uses CNC machines. Since CNC machines are used to cut a lot of different materials, such as:
Nearly every manufacturing facility in the United States now has one – and they all need operators.
Learn more about what it's like to work with CNC machines:
See Yourself at NAB
We're hiring! Check out our Careers page to see if you've got the skills to join our team: