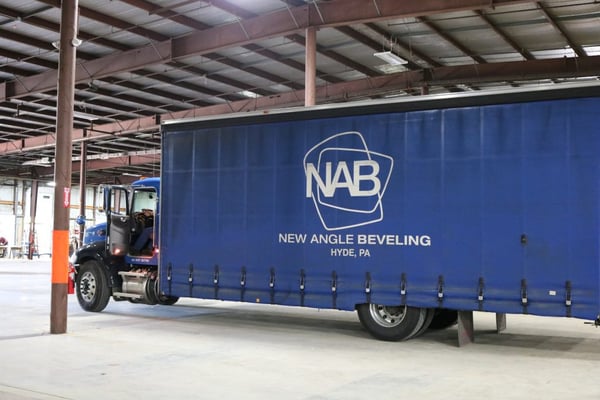 Glass is beautiful, decorative, stylish and very delicate.
While custom glass sheets are a trendy addition or enhancement to many spaces, getting the pieces from Point A to Point B can be somewhat of a challenge because of their fragility. Packaging and shipping considerations are vitally important.
As a glass shop, the last thing that you want is an unsatisfied customer because their product arrives broken or damaged. That's why we can't stress enough the importance of being proactive with your shipping and packaging process.
Shipping glass safely means ensuring quality and caution at every step of its journey to your customer's doorstep. Here are some notes on how to ship glass sheets safely.
.
Protocols on How to Ship Glass Sheets Safely
It's vital to follow stringent and detailed protocols for getting glass out of your facility and safely in the hands of your customers.
Location and quantity are the main factors when deciding how best to ship products to your customers. From there, decide on the next steps based on a few things:


Out-of-State Shipping
Ship out-of-state orders by a common carrier. Carrier selection should be determined by carefully reading reviews or by customer preference.
To prepare for carrier delivery, crate glass using foam between the wood and the glass and ample packaging material within. Paper interleaving prevents the glass pieces from rubbing and scratching against one another while in the crate.
Build crates out of either 2x4 or 2x6 material, depending on the depth required for the glass sheet. It's standard to screw OSB or plywood sheathing to the core of the crate. Then, screw a 1x4 or 1x6 material vertically and horizontally on the outside to prevent the OSB and glass from being punctured.
On the inside of the crate, use a blocking material to secure the glass to the bottom to ensure the glass is not resting directly on the wood. The blocking material acts as a suspension, ensuring the glass is safe during transit. Place banding around the entirety of the crate to secure it in place and limit movement.
The crate can be placed upon a skid for forklift unloading if required by the customer.


Local Shipping
For shipping a larger quantity of glass locally, the above steps are followed to ensure the glass is shipped safely by crating. Alternatively, they could be placed on an L-Buck and offloaded with a forklift if there is a substantial size and weight.
For smaller quantities of glass (or large quantities of thin glass), the sheets should be wrapped in cardboard and placed on a skid.
For other glass products -- such as shower doors, fabricated glass, or beveled mirrors -- glass should be cardboard wrapped with rubber products utilized as corner protectors to prevent breakage. While some glass companies opt to use film on the glass, using cardboard ensures better protection.
Smaller fabricated products and orders shipped locally are often wrapped or shipped "loose" using static cling cork tabs in between the sheets. Whenever possible, ship glass products in covered trucks to protect fabricated glass from the elements.


(Resource: Looking to partner with a glass manufacturer? Read our guide on how to get the most out of that partnership.)
3 Do's of How to Ship Glass Sheets Safely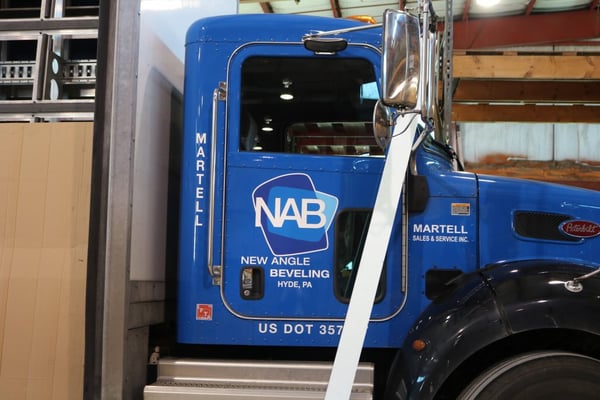 So how do you best ship custom glass sheets?
Here's a look at what you should be doing:
Over package it
Build a custom box (or two)
Find a Special Shipper


1. Overpackage
Glass doesn't bend; it breaks. So you want to take all the steps you can to ensure that it's packaged properly. Overpacking is the best method. First, wrap the glass sheet in a garbage bag or bubble wrap to prevent glass surface scratching. Then, consider adding secondary protective packing materials, such as air pillows, foam, or even loose fill peanuts. Suspended packaging can even work to ensure the glass doesn't move during transit.


2. Build a Custom Box (or Two)
We'd also suggest having a custom box built for glass sheets. The box ensures the sheets fit snugly inside the box, packaging materials, and all so that the product does not move around during transit. To add extra security during shipping, you can have a slightly bigger outer box custom-built, which you'll place the first one inside, then line the space between the two boxes with foam or another type of protective packaging.


3. Find a Special Shipper
Now that you have your packaging all set, it's time to have the product shipped to the end-user. You can take a chance on using one of the mainstream shippers, or you could put in the extra effort to find a special transporter specializing in safely delivering delicate and fragile items. We'd recommend the latter, especially for high-priced and valuable glass sheets.|



3 Don'ts of How to Ship Glass Sheets Safely
Now that we've gone over how to package and ship glass sheets, here are some tips on what you don't want to do:
Don't underpackage
Don't Be Afraid to Try New Things
Don't Cut Corners


1. Don't Under Package
Don't just wrap the glass, throw it in a box, and hope it's enough. It's always better to over package.


2. Don't Be Afraid to Try New Things
Have poor results with a packaging style or with a shipper? Don't be afraid to switch them up so your process works better. Remember, your packaging and transportation are all for the benefit of the end consumer. Keep the consumer in mind always.


3. Don't Cut Corners
Shipping is not a place to cut corners. You may think you're saving time or money on materials but being careless with shipping all but guarantees a breakage. Cutting corners leads to spending more time and money and making your customers unhappy.



Protection Throughout the Journey
Safe glass shipping starts working with a manufacturer who cares as much as you do about product quality and ends with you. Investing time to ensure your glass products are safeguarded at all stages of their journey is an investment in your business's reputation as a quality provider.
(This blog was initially posted on Aug. 28, 2019, and has since been updated.)